Engels | Druk: 1 | Hardcover | 9789462761506 | 300 pagina's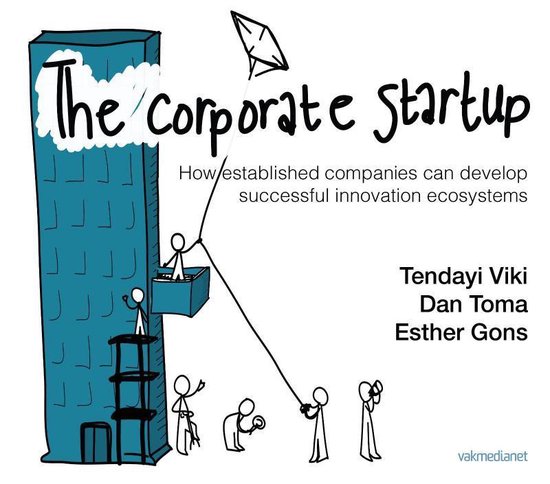 "A key reading for leaders that outlines how to effectively innovate for the future and boost growth, while running the core business" – Alex Osterwalder, co-author of Business Model Generation

The Corporate Startup received an Axiom Business Book Awards 2019 Gold Medal and is the 2018 Innovation and Entrepreneurship Category winner of CMI Management Book of the Year Award. Author Tendayi Viki was also on the shortlist for the Innovation Award and is on the 2018 Radars list of Thinkers50.

Big companies need to innovate or die. The question is how. Companies need a playbook; a process by which they can start the process of transforming their organizations into innovation engines. The Corporate Startup is that playbook. It provides a proven methodology - applying Lean Startup principles and more - for building a culture of innovation.
Ben Yoskovitz, Co-Author of Lean Analytics and Founding Partner at Highline BETA.

The Corporate Startup is a practical guide for established companies that aspire to develop and sustain their innovation capabilities.

* The world around us is changing rapidly. There is now more pressure on established companies to innovate.
* The challenge most companies face is how to develop new products for new markets, while managing their core business at the same time.
* The principles and practices outlined in this book provide companies with a blueprint of how to manage innovation while they execute on their core business.
* The Corporate Startup provides frameworks, visualizations, templates, tools and methods that can be easily applied to develop new products and business models.

We have found The Corporate Startup model and the thoughts on the innovation ecosystem very useful in designing our innovation strategy. This book is a must read for all corporate leaders that want to transform their companies to be more innovative.
Erik Kongsvik-Ibsen, Vice President of Strategy and Business Development at Egmont.

This book is a timely addition to the corporate innovation space. It is a must read for anyone working on innovation in medium-size and large companies. The principles and practices, if well implemented, can save a company from the disruption death march.
Tim Deeson, Managing Director at Deeson Group.
Levertijd: Op voorraad. Voor 23:00 uur besteld, morgen in huis
€42.99 (nieuw: €46.44) Besparing: 7 %
(Inclusief €1,99 servicekosten)
The Corporate Startup Engels | Druk: 1 | Hardcover | 9789462761506 | 300 pagina's
Taal
Engels
Bindwijze
Hardcover
Druk
1
Verschijningsdatum
april 2017
Afmetingen
Afmeting: 24,5 x 21,8 x 3,3 cm
Aantal pagina's
300 pagina's
Illustraties
Nee
Auteur(s)
Tendayi Viki | Dan Toma | Esther Gons
Illustrator
Esther Gons
Redacteur
Rachel Faulkner
Co-redacteur
Rachel Faulkner
Uitgever
Vakmedianet Management Bv
Originele Titel
The Corporate Startup
Gewicht
1270 g
Studieboek
Ja
Verpakking breedte
218 mm
Verpakking hoogte
33 mm
Verpakking lengte
245 mm