Wat is dit voor site? Wij zoeken de goedkoopste boeken op internet. Autonomy and Empowerment of Hospitalized Older Peoplevonden we het goedkoopst op Bol.com voor €81.99. We hebben gezocht in nieuwe en tweedehands boeken. Rechtsonderaan de pagina kan je het boek direct bestellen via Bol .com.
Autonomy and Empowerment of Hospitalized Older People
Engels | Paperback | 9783848484324 | 340 pagina's
Dulce Cabete - 9783848484324
Engels | Paperback | 9783848484324 | 340 pagina's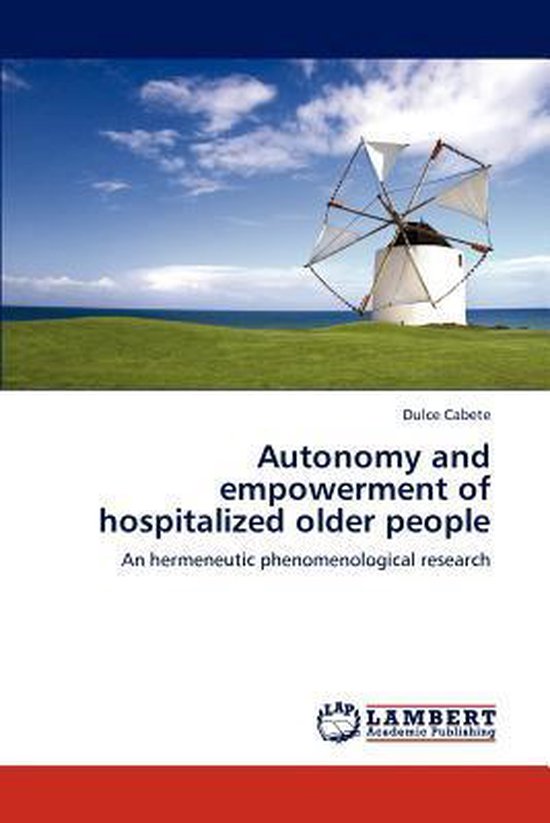 Autonomy and empowerment are core concerns in the field of geriatric care but the discussion has been mostly based on the health professionals' point of view and in the context of long-term care. The aim of this study was to explore the concept of autonomy and the empowerment process in hospitalized older people encompassing the nurses' and patients' points of view. A qualitative study design was drawn up within a phenomenological approach. Nurses' life histories and patients' biographic narratives were collected. Hermeneutic analysis was performed. Patients and nurses have different concepts from each other regarding autonomy and empowerment. Patients have a more comprehensive view of these concepts but feel powerless, voiceless and would like to hold more power regarding the dimensions of care that are currently dependent on nurses' action. The differentiation of latent and manifest autonomy emerged in this study. In hospital, latent autonomy is significantly higher than manifest autonomy and nurses play a significant role in the extent of the gap between these two dimensions. Empowering interventions might transform patients' latent autonomy into one that is vivid and manifest.
Levertijd: 2 - 3 weken
€81.99

Autonomy and Empowerment of Hospitalized Older People Engels | Paperback | 9783848484324 | 340 pagina's
Taal
Engels
Bindwijze
Paperback
Verschijningsdatum
mei 2012
Aantal pagina's
340 pagina's
Illustraties
Nee
Auteur
Dulce Cabete
Uitgever
Lap Lambert Academic Publishing
Extra groot lettertype
Nee
Gewicht
499 g
Verpakking breedte
152 mm
Verpakking hoogte
19 mm
Verpakking lengte
229 mm
Bekijk alle opties Afrekenen Voeg toe aan lijst
Gerelateerde producten