Wat is dit voor site? Wij zoeken de goedkoopste boeken op internet. Institutional Ownershipvonden we het goedkoopst op Bol.com voor €52.00. We hebben gezocht in nieuwe en tweedehands boeken. Rechtsonderaan de pagina kan je het boek direct bestellen via Bol .com.
Institutional Ownership
Engels | Paperback | 9783843352437 | 100 pagina's
Darja Grgic, Caroline Johansson - 9783843352437
Engels | Paperback | 9783843352437 | 100 pagina's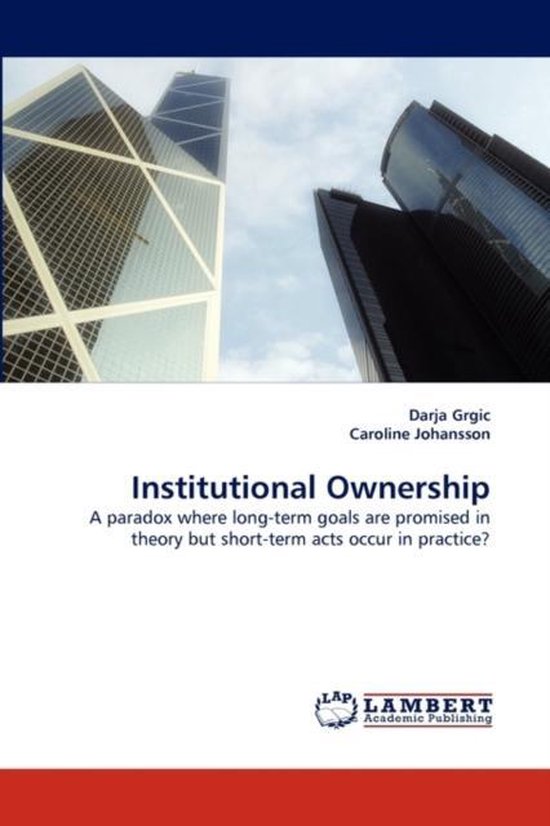 The development of the capital market in Sweden in recent years has transformed the ownership in companies from private owners to large institutional owners including investment companies, insurance companies and pension funds. The investors are accused of being passive owners with a strict focus on short-term financial results and of having no interest in developing companies and building long-term relationships. There has though been an increasing trend in the business sphere towards new forms of ownership activity and corporate engagement where the investors present themselves as active owners with a sense of responsibility and interest in companies due to pressure from the society. Owners are however obliged to earn profit and present positive short-term results to shareholders and customers in order to survive in the competition and it can therefore be difficult to combine both long and short-term goals. This book should help shed some light on whether a paradox exists within institutional ownership between long-term goals and short-term acts and can be useful to professionals within institutions and capital markets or anyone else who may be interested in ownership questions.
Levertijd: 3 - 5 weken
€52.00

Institutional Ownership Engels | Paperback | 9783843352437 | 100 pagina's
Taal
Engels
Bindwijze
Paperback
Verschijningsdatum
september 2010
Aantal pagina's
100 pagina's
Illustraties
Nee
Auteur(s)
Darja Grgic | Caroline Johansson
Uitgever
Lap Lambert Academic Publishing
Extra groot lettertype
Nee
Gewicht
159 g
Studieboek
Ja
Verpakking breedte
152 mm
Verpakking hoogte
229 mm
Verpakking lengte
229 mm