Engels | Druk: 1 | Hardcover | 9783832797591 | 400 pagina's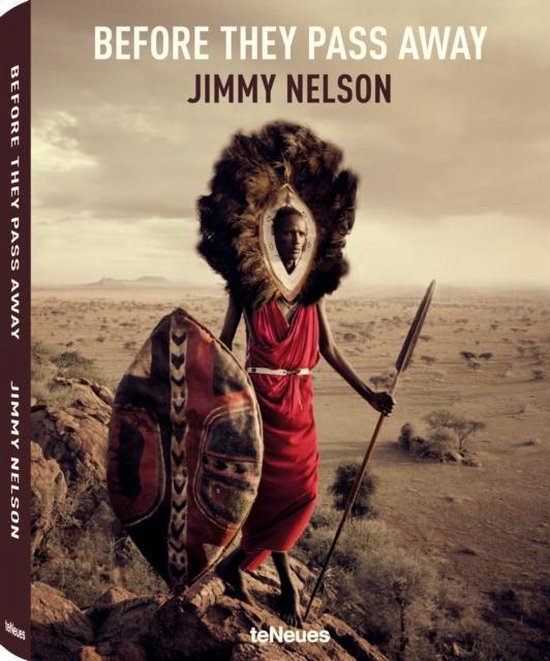 Let op! Dit is de luxe hardcover editie! Ben je op zoek naar een kleiner formaat? Ga dan voor deze versie .
Deze hardcover uitgave van Jimmy Nelson's 'Before they Pass Away' is op luxe wijze in linnen gebonden.
Een prachtige uitgave die over diverse extra's beschikt:
• Pagina's die uitklapbaar zijn
• Papier van betere kwaliteit
• Bevat extra foto's
• Voorzien van extra tekst
• Mooie omslag om linnen kaft
• Engelse, Duitse en Franse tekst
Dit is de luxe hardcover editie van Before They Pass Away.
Prachtige portretten van onbekende volkeren domineren dit beeldschone boek. Fotograaf Jimmy Nelson reisde naar de meest afgelegen plekken om de unieke mensen in dit fotoboek te fotograferen. 'Before they Pass Away' is hiermee bij uitstek een koffietafelboek geworden met een krachtige boodschap. De mensen die op de foto's zijn vastgelegd worden in onze complexe wereld met uitsterven bedreigd. Dit luxe fotoboek vormt een geweldig cadeau aan uzelf of aan een ander. Eerder werd in het tv-programma 'De Wereld Draait Door' al uitgebreid aandacht besteed aan dit interessante boek.
Lees hier het artikel over Before They Pass Away.
Engelstalige beschrijving
This historic volume chronicling tribal cultures around the world is a joy to look at, but even more so, serves as an important historical record. Before They Pass Away reveals the wide diversity of human experiences and cultural expressions across the ages. In this impressive work, Jimmy Nelson showcases the lives and traditions of the last surviving tribes who were able to uphold their traditional ways and customs within the evermore globalizing world. These cultures should be treasured for their unique lifestyles, art and traditions and living in close harmony with nature, which is hard to find in our modern era. The British photographer's spectacular portraits present these venerable heirs of noble and ancient traditions in a proud spirit and in all their glory—a unique visual experience.
Nelson's large-plate field camera captures each minute detail and fine nuance for future generations. Not only does he present us with stunning images of customs and artifacts, he also showcases insightful portraits of people who are guarding a culture that they hope will be passed on in all its glory to generations to come, as do we. What's more, this visual spectacle is set against the lively backdrop of some of the world's most primeval landscapes.
Written in English, German and French.
• Extra-large sized photobook
• This homage to vibrant tribal cultures the world over is a must for any documentary photography enthusiast
• It will resound with readers on all levels —aesthetic, intellectual, and emotional—and be a keepsake for passing down the family
• An exceptional visual experience
For sheer splendor, the catwalks of New York, Milan and Paris combined can barely touch the eagle hunters of Mongolia. Riding squat ponies through the mountains, these Turkic peoples wear high-domed and winged fur hats, embroidered felt boots and leggings, cloaks of reindeer hide, studded metal belts, fearsome hooded eagles perched on their arms. The fierce elegance of their clothing fully matches that of the stark landscape they inhabit; it also, and not incidentally, testifies to the irrepressible human will to beautify. That conclusion inevitably results from viewing Before They Pass Away, the British photographer Jimmy Nelson's tombstone-size new volume (teNeues, $150) documenting vanishing tribal cultures around the world. The book results from a project taking years and is less ethnology or anthropology than a document of his romance with otherness. In his strenuous travels with an archaic studio camera, Mr. Nelson visited 35 of the world's least known and most imperiled tribal peoples -- from the Huli and Kalam tribes of New Guinea, to the Tsaatan of Mongolia and the Mursi people inhabiting the highlands of the Omo River valley in remote southern Ethiopia. Guy Trebay, New York Times.com Fashion and Style Section, October 18, 2013
Levertijd: 1 - 8 dagen
Tweedehands: €66.98 (nieuw: €77.50) Besparing: 14 %
(Inclusief €1,99 servicekosten)