Engels | Druk: 1 | Hardcover | 9782503529097 | 258 pagina's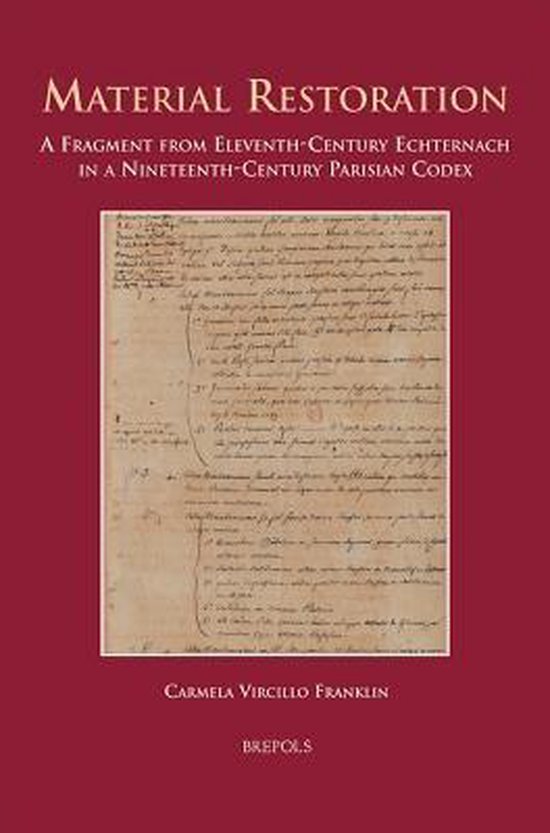 Cursor Mundi is a publication series of inter and multidisciplinary studies of the medieval and early modern world, viewed broadly as the period between late antiquity and the Enlightenment. Like its companion, the journal Viator, Cursor Mundi brings together outstanding work by medieval and early modern scholars from a wide range of disciplines, emphasizing studies which focus on processes such as cultural exchange or the course of an idea through the centuries, and including investigations beyond the traditional boundaries of Europe and the Mediterranean.

Material Restoration follows the journey of a parchment bifolium, which was first used in the binding of a manuscript produced in Echternach around the year 1000, and then removed from its original container-codex after it was appropriated by the French during the Napoleonic wars. By tracing the creation, interpretations, and migratory life of the parchment until its eventual incorporation within a nineteenth-century codex, this analysis presents the bifolium as an illustration of `new philology', and as an essential material and cultural element of the different codices that contained it. Material Restoration also analyses the texts inscribed on the bifolium, which include a charter, two poems, and verbal and musical glosses. By considering these texts within the context of the networks that produced and used them, the book offers an intriguing insight into the monastic and literary communities of eleventh-century Echternach. Material Restoration is a riveting and satisfying scholarly detective story that combines both erudition and new discoveries, and adheres to the standards of both classical and new philology.
Levertijd: Verwacht over 8 weken
€57.99

Material Restoration Engels | Druk: 1 | Hardcover | 9782503529097 | 258 pagina's
Taal
Engels
Bindwijze
Hardcover
Druk
1
Verschijningsdatum
mei 2010
Aantal pagina's
258 pagina's
Illustraties
Nee
Auteur(s)
Carmela Vircillo Franklin
Uitgever
Brepols N.V.
Extra groot lettertype
Nee
Gewicht
544 g
Studieboek
Nee
Verpakking breedte
159 mm
Verpakking hoogte
25 mm
Verpakking lengte
235 mm