Engels | Druk: 1ste Editie | E-book | 9781936456345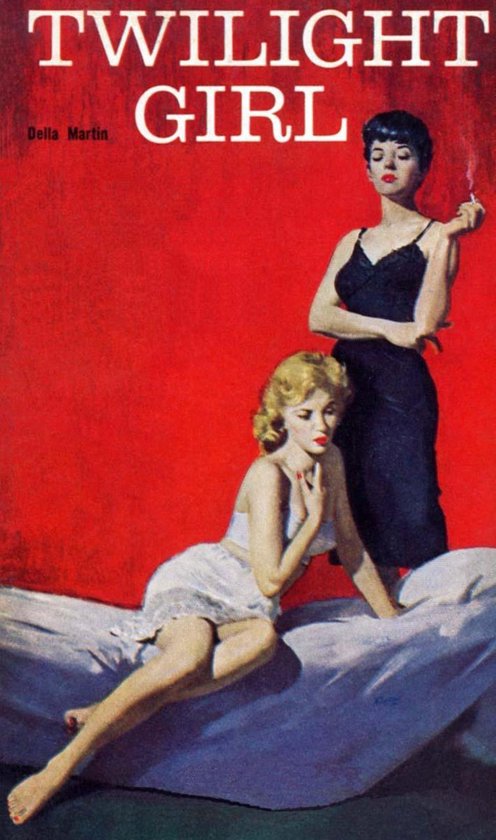 First Digital Edition
Grier Rating: A**
From the back cover…
Here is the story not of the older, harder type of twilight woman, but of an innocent highschool girl, Lorraine Harris. She is first led into perverse practices by Violet, a pretty blonde carhop. Then, Lorraine is pulled ever more deeply into tainted love by Sassy Gregg, a wealthy seeker of twisted "kicks" – and by Mavis, wonderful Mavis, who becomes Lorraine's "wife". At the last, Lorraine is the confused victim of her own contaminated passions.
This controversial lesbian pulp novel has been both praised and criticized by reviewers over the years since it was first published in 1961. It is the story of an inexperienced 16-year-old, Lorraine "Lon" Harris, who is learning to make her way in the world as a lesbian. Most of the time she feels like an outsider, painfully aware that she lives in a world that doesn't understand or accept her. She fantasizes about an island world that would be populated by women only… women who would be free to love and enjoy each other.
One day she meets Violet, a car hop at a local drive-in restaurant. Violet, who has had experiences with women before, immediately recognizes Lon as a butch and takes her out to an underground lesbian bar that caters to the butch/femme crowd. There, Lon meets Mavis, a black femme, and her wealthy butch lover, Sassy. Sparks fly between Mavis and Lon… and before long, they begin seeing each other on the sly. Sazzy finds out about their relationship and confronts Lon, who is head over heels in love with Mavis and willing to protect her, and their love, at all costs.
Levertijd: Direct beschikbaar
€4.00
(Exclusief €1,99 verzendkosten)