Engels | Druk: 1 | Paperback | 9781911355007 | 120 pagina's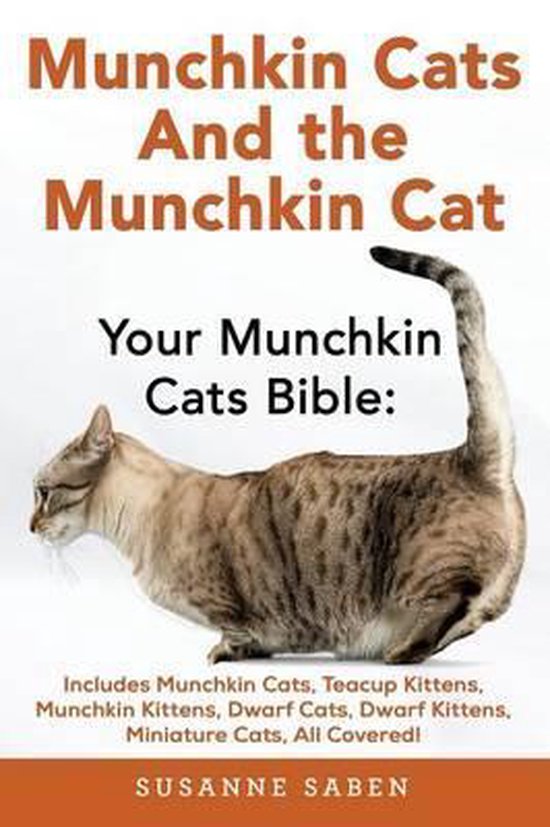 I've always been a cat lover since I was a little girl and have been fascinated by Munchkin Cats. This book helped me a lot and you can tell the lady really loves munchkin cats and the book is really fun too. Kathy S. Palo Alto, C Has a LOT on munchkin cats, dwarf cats, and also teacup kittens and cats and it was really interesting to see the differences between them and look at all the very cute pictures Cynthia Sharman, Rockport, MD. The BEST Munchkin Cat book out there by a mile!- I like how it had a lot of detail for all budgets as well as people living in the USA/Canada but also in the UK (as I do) thank you. M.A. Sawyer, East Sussex, UK Very well written and good info, very helpful and fun to read about munchkins and teacup cats and it's interesting to see how they are best cared for (I was a bit worried because of their small size but the book has helped a lot).. M Ruskin, Memphis, TN I've been looking for a good Munchkin Cat Book forever thank you so much! - Renae Meadows, Sacramento, CA.
Everything you need to know about Munchkin Cats- from Munchkin Kittens to the adult Munchkin Cat, the Dwarf Cat. Includes detailed insight into Munchkins, Teacup Cats, and all types of Short Legged Cat. Covered are Munchkin Cat Prices, behavior, quirks, and everything you need to know about raising a healthy & happy Munchkin Cat. Another informative and entertaining title from passionate cat owner and lover Susanne Saben! As a true Munchkin cat lover- she enjoys advising on all aspects of Munchkin Cats from raising a Munchkin Kitten, the first vet visit, Teacup Cats and how to tell the difference, Munchkin Cat prices, Scottish Fold Munchkins, Genetta, Lambkins, and how to find the best Munchkin Cat Breeders. Whether you are looking for a Munchkin Cat, already a Munchkin Cat owner, or a seasoned Munchkin Cat owner, the tricks and tips within this guide will prove invaluable. This book is a must-have guide for anybody passionate about Munchkin Cats. Susanne lays out everything you need to know in an easy to understand and memorable style. The book is written in an easy to read, straightforward, and fun way to enhance your experience around every aspect of living with and loving your Munchkin Cat! It's everything you need to know about Munchkin Cats, the Munchkin Cat, Munchkin Kittens, the Dwarf Cat, & Teacup Kittens from Munchkin Cat owner Susanne Saben. This is the must-have guide for anyone passionate about Munchkin Cats or wanting to know more. Munchkin Cat Prices, Scottish Fold Munchkin, Dwarf Cat types, Dwarf Kittens, Genetta, & More!
Levertijd: Verwacht over 10 weken
€18.05
(Exclusief €1,99 verzendkosten)