Engels | Druk: Airport / Ireland / Export ed | Paperback | 9781905211272 | 336 pagina's
Engels | Druk: Airport / Ireland / Export ed | Paperback | 9781905211272 | 336 pagina's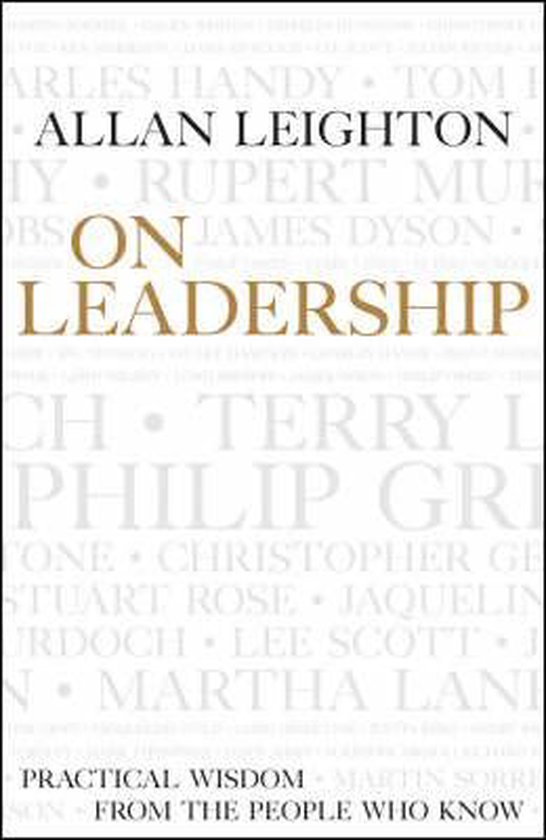 Leadership wisdom from the man who is helping Galen Weston re-engineer Loblaws.

The definitive analysis of what it takes to be a great business leader, written by one of the world's top businessmen and based on interviews with leading figures from every walk of business life.

There have been many books on leadership, but here at last is one that actually draws on the wisdom of those in the know. Acting on his belief that you get the most done in the first twenty minutes of a meeting, Allan Leighton invited Britain's top businessmen and women to spend just twenty minutes talking about their views on leadership. And he has talked to an astonishing range of them — the established giants such as Philip Green and Rupert Murdoch; the new generation of leaders, such as Andy Hornby at HBOS and Justin King at Sainsbury; and entrepreneurial figures who include James Dyson and Gulam Noon at Noon Foods. He has gone further too — interviewing the nation's top financial journalists, whose views can help make a company soar or sink; the money men, whose support is critical for investment and acquisition; the politicians, who help create the climate in which businesses can thrive or falter. The result is a fascinating 360 degree view of what it takes to be a business leader in today's cut-throat global economy — thought-provoking, often surprising, always insightful.
Levertijd:
-
On Leadership Engels | Druk: Airport / Ireland / Export ed | Paperback | 9781905211272 | 336 pagina's
Taal
Engels
Bindwijze
Paperback
Druk
Airport / Ireland / Export ed
Verschijningsdatum
juni 2007
Aantal pagina's
336 pagina's
Illustraties
Nee
Auteur(s)
Allan Leighton | Teena Lyons
Uitgever
Cornerstone / Cornerstone Ras
Gewicht
436 g
Studieboek
Ja
Verpakking breedte
154 mm
Verpakking hoogte
24 mm
Verpakking lengte
234 mm