Wat is dit voor site? Wij zoeken de goedkoopste boeken op internet. Rethinking Contexts, Rereading Textsvonden we het goedkoopst op Bol.com voor €228.99. We hebben gezocht in nieuwe en tweedehands boeken. Rechtsonderaan de pagina kan je het boek direct bestellen via Bol .com.
Rethinking Contexts, Rereading Texts
Engels | Hardcover | 9781841270586 | 282 pagina's
David Daniel Mcateer, Rachel Carroll - 9781841270586
Engels | Hardcover | 9781841270586 | 282 pagina's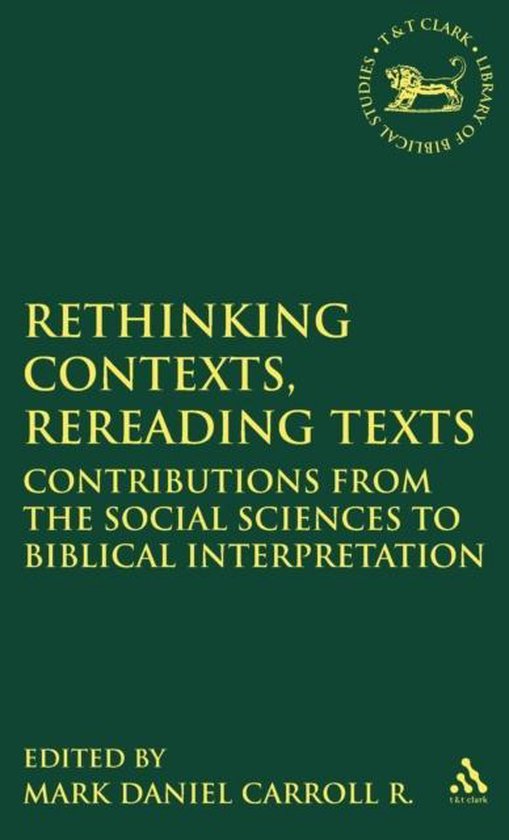 This volume brings together ten essays on the various contexts for texts that social-scientific approaches invoke. These contexts are: the cultural values that inform the writers of texts, the relationship between the text and the reader or community of readers, and the production of texts themselves as social artifacts. In the first, predominantly theoretical, section of the book, John Rogerson applies the perspective of Adorno to the reading of biblical texts; Mark Brett advocates methodological pluralism and deconstructs ethnicity in Genesis; and Gerald West explores the 'graininess' of texts. The second part contains both theory and application: Jonathan Dyck draws a 'map of ideology' for biblical critics and then applies an ideological critical analysis to Ezra 2. M. Daniel Carroll R. reexamines 'popular religion' and uses Amos as a test case; Stanley Porter considers dialect and register in the Greek of the New Testament, then applies it to Mark's Gospel. This is an original as well as wide-ranging exploration of important social-scientific issues and their application to a range of biblical materials.
Levertijd: 2 - 3 weken
€228.99

Rethinking Contexts, Rereading Texts Engels | Hardcover | 9781841270586 | 282 pagina's
Taal
Engels
Bindwijze
Hardcover
Verschijningsdatum
februari 2000
Aantal pagina's
282 pagina's
Illustraties
Met illustraties
Auteur
David Daniel Mcateer | Rachel Carroll
Co-auteur
Rachel Carroll
Redacteur
R. Carroll
Co-redacteur
M. Daniel
Uitgever
Bloomsbury Publishing Plc
Extra groot lettertype
Nee
Subtitel
Contributions from the Social Sciences to Biblical Interpretation
Bekijk alle opties Afrekenen Voeg toe aan lijst
Gerelateerde producten