Wat is dit voor site? Wij zoeken de goedkoopste boeken op internet. Rules, Choice and Strategyvonden we het goedkoopst op Bol.com voor €0. We hebben gezocht in nieuwe en tweedehands boeken. Rechtsonderaan de pagina kan je het boek direct bestellen via Bol .com.
Rules, Choice and Strategy
Engels | Druk: Edward Elgar Publishing Ltd | Hardcover | 9781840646009 | 232 pagina's
Ram Mudambi, Pietro Maria Navarra - 9781840646009
Engels | Druk: Edward Elgar Publishing Ltd | Hardcover | 9781840646009 | 232 pagina's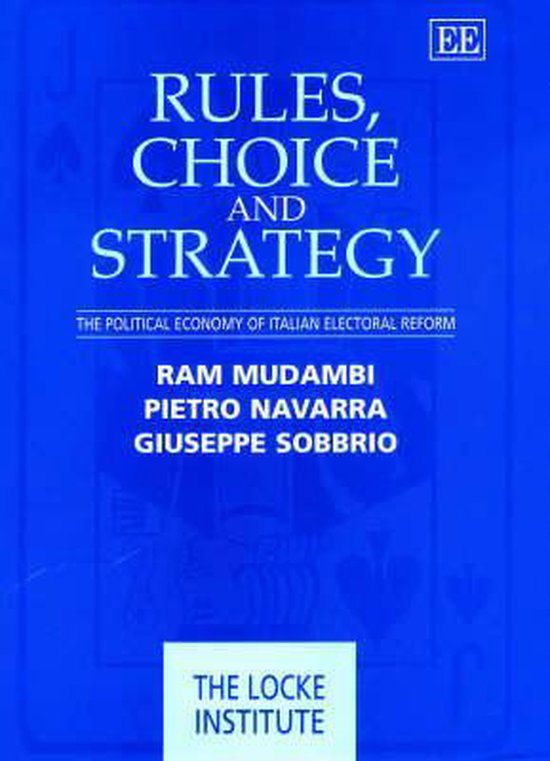 The design of an electoral system is fundamental to any democracy. It is through electoral systems that the commitment of a society to a political system is achieved. The peculiarities of an electoral system assume significant importance in periods in which democratic polities seem caught between a crisis of confidence in their representative systems and mass apathy over the product of government - as has recently occurred in Italy. Electoral rules constrain available choice alternatives and therefore have profound effects on governance of a country since different electoral rules generate different outcome patterns even with no change in the identity of candidates. The two most common electoral schemes are proportional representation and plurality. The theoretical debate concerning these two systems is of intense interest not least because of the importance of finding a stable, democratic and representative institutional structure that can be employed worldwide. This topical book analyses the change of electoral rules in Italy from proportional representation toward plurality. While Italy is used as the illustrative case, the analysis has far-ranging theoretical and practical implications, and will therefore be of interest to academics and researchers of political economy, constitutionalism and public choice.
Levertijd:
-
Rules, Choice and Strategy Engels | Druk: Edward Elgar Publishing Ltd | Hardcover | 9781840646009 | 232 pagina's
Taal
Engels
Bindwijze
Hardcover
Druk
Edward Elgar Publishing Ltd
Verschijningsdatum
oktober 2001
Aantal pagina's
232 pagina's
Auteur
Ram Mudambi | Pietro Maria Navarra
Co-auteur
Pietro Maria Navarra
Uitgever
Edward Elgar Publishing Ltd
Gewicht
493 g
Verpakking breedte
156 mm
Verpakking lengte
234 mm
Bekijk alle opties Afrekenen Voeg toe aan lijst
Gerelateerde producten