Engels | Druk: 1 | E-book | 9781783001439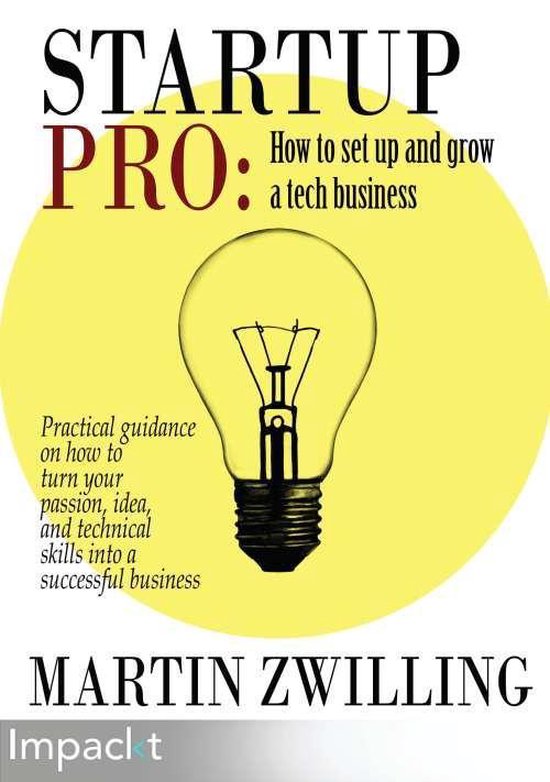 Marty Zwilling knows exactly what it takes to create and grow a successful business from scratch. As the founder and CEO of Startup Professionals, Marty is passionate about helping small business owners and startup founders grow in confidence and profits.

The most important, if difficult thing for anyone in business is transforming the first small buds of success into a blossoming business. With a large community of followers online, popular blogs dispensing advice on a range of business issues and books such as "Do You Have What It Takes to Be an Entrepreneur?" Marty here looks at the growing, lucrative – essential, even - world of tech. In this new book he provides you with sharp insights and friendly guidance to help even the most inexperienced tech entrepreneur.

Demonstrating how to prepare yourself for and navigate the challenging but exciting world of business, this book is an invaluable companion on the journey towards success. Beginning with the attributes of a good entrepreneur, and then looking at how to build a business around your skills and passions, Marty's indispensable advice also looks at how to formalize a business plan, find investors, and lead teams. Success is often hard-won in the business world, but here Marty attempts to make it that little bit easier for you.

Today, the fastest growing businesses are built around tech – whether you are building websites or analysing data, the world of business is dependent on tech experts to constantly be one step ahead of the game. Yet while your skills and knowledge may be in demand, creating and growing a successful business can be a huge challenge. With this insightful and inspirational guide, you will find out how to build the business you want, beginning with an effective and formalized business plan you – and other stakeholders – truly believe in, then how to articulate that confidence and belief as you find investors and stakeholders you can trust and build a team you know you can depend upon. You will also discover how to lead teams, driving forward both your business and yourself to the success you always dreamed of. About the Author

Martin Zwilling

Martin Zwilling has a passion for nurturing the development of entrepreneurs by providing first-hand mentoring, funding assistance, and business plan development. He is the Founder and CEO of Startup Professionals, a company that provides products and services to startup founders and small business owners. He writes a daily blog for entrepreneurs, and dispenses advice on the subject of startups to a large online audience of 750,000 Twitter followers. He is also a regular contributor to Forbes, Entrepreneur Inc, Business Insider, and the Huffington Post. He also has published two other books, Do You Have What It Takes To Be An Entrepreneur? and Attracting an Angel. He has a 30 year track record of demonstrated results as an executive in general management, computer software development, product management, and marketing, as well as in leading technical business transformations, conducting due diligence for investors, mentoring new technical executives, and overseeing business development, customer service, and outsourcing both onshore and offshore. Marty began his career with IBM, holding an array of positions including executive roles in software development and professional services. Prior to beginning his career, Marty obtained a Bachelor of Science degree in Accounting and a Minor in Computer Science from the University of Illinois in Champaign-Urbana. A resident of Fountain Hills, Arizona, Marty is also an active member of the local Angel investment group (Arizona Technology Investor Forum), an advisor to the Arizona State University Venture Catalyst program, Executive in Residence at the Thunderbird School of Global Management, and member of the Advisory Boards for several startups in the area.
Levertijd: Direct beschikbaar
€17.99
(Exclusief €1,99 verzendkosten)