Engels | Druk: 1 | Hardcover | 9781632867087 | 64 pagina's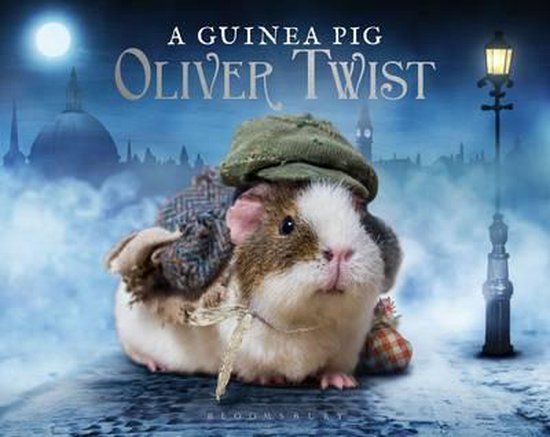 From the roly-poly guinea pigs who brought you A Guinea Pig Nativity and A Guinea Pig Pride & Prejudicecomes this adorable adaptation of Dickens' beloved novel Oliver Twist!

We've admired guinea pigs in bonnets edged with delicate lace and dapper top hats in A Guinea Pig Pride & Prejudice, swooning over the love between Elizabeth Bennet and Mr. Darcy. We've oohed and ahhed over guinea pigs in the sweet, hay-filled manger in A Guinea Pig Nativity. Now, in A Guinea Pig Oliver Twist, we'll delight in the adorable little pigs with expressive eyes dressed in the tattered rags of street urchins and orphans that roamed the streets in gritty 19th-century London.

At only nine years old, Oliver Twist is transferred from an orphanage to a workhouse for adults. He is sold to an undertaker as an apprentice, and finally escapes to London, where he joins a gang of pickpocketing street urchins led by Fagin, an older criminal.

But young Oliver isn't made for a life of crime, and is upset when his compatriots steal an elderly gentleman's handkerchief. Mr. Brownlow, the owner of the handkerchief, senses Oliver's true nature and takes him in, but the band of thieves won't let Oliver live a straight and narrow life; they kidnap him and drag him back into a life on the street. Forced to assist in a burglary, Oliver is shot and again taken in by the victims of the crime. One of the women, it turns out, is his aunt, and once Mr. Brownlow formally adopts Oliver, they all begin a blissful life in the country.

This compact little book is illustrated by dozens of photographs of our favorite guinea pig actors and actresses.
Levertijd:
-
A Guinea Pig Oliver Twist Engels | Druk: 1 | Hardcover | 9781632867087 | 64 pagina's
Taal
Engels
Bindwijze
Hardcover
Druk
1
Verschijningsdatum
oktober 2016
Afmetingen
Afmeting: 16,3 x 13 x 1,3 cm
Aantal pagina's
64 pagina's
Illustraties
Nee
Auteur(s)
Alex Goodwin | Tess Newall | Tess Newall | Tess Gammell
Uitgever
Bloomsbury Usa
Extra groot lettertype
Nee
Gewicht
204 g
Studieboek
Nee
Verpakking breedte
163 mm
Verpakking hoogte
13 mm
Verpakking lengte
130 mm