Engels | Paperback | 9781614010388 | 30 november 2012 | 46 pagina's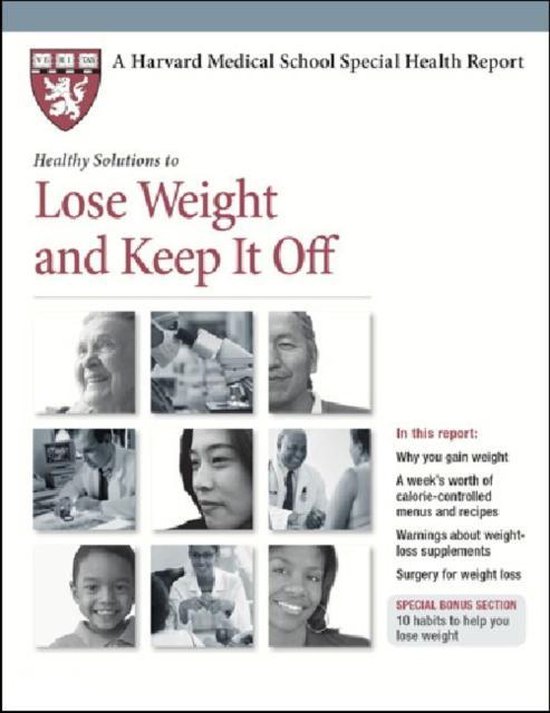 If you've struggled to lose weight, you're in good company. Maintaining a healthy weight has become an obsession - costing more than $50 billion on weight-loss products and services each year. But health experts now recommend that people follow a healthy diet rather than focusing on becoming thin. Many people have unrealistic expectations about how much weight they really need to lose. Losing just small amounts of weight - about 10% of your body weight - can improve your health.

In our report Healthy Solutions to Lose Weight and Keep it Off, you'll learn:
The science behind many popular diet plans - which work and which don't
Which weight-loss aids pose a threat to your health
The facts about two popular weight-loss surgeries
How to tell if you have metabolic syndrome --a serious risk to your health
This report also includes a Special Bonus Section that features a week's worth of menus, including delicious and healthy recipes from the famed Culinary Institute of America.
Healthy Solutions to Lose Weight and Keep it Off
will provide the tools you need to start a successful weight-loss program and stay healthy and fit for years to come.
Levertijd:
-
Healthy Solutions to Lose Weight and Keep it off Engels | Paperback | 9781614010388 | 30 november 2012 | 46 pagina's
Taal
en
Bindwijze
Paperback
Oorspronkelijke releasedatum
30 november 2012
Aantal pagina's
46
Illustraties
Nee
Hoofdredacteur
Harvard Health Publications
Tweede Redacteur
Kathy Mcmanus
Co Redacteur
Annaswamy Raji
Hoofduitgeverij
Harvard Health Publications
Gewicht
148 g
Verpakking breedte
152 mm
Verpakking hoogte
6 mm
Verpakking lengte
229 mm