Wat is dit voor site? Wij zoeken de goedkoopste boeken op internet. Pathfinder Roleplaying Gamevonden we het goedkoopst op Bol.com voor €0. We hebben gezocht in nieuwe en tweedehands boeken. Rechtsonderaan de pagina kan je het boek direct bestellen via Bol .com.
Pathfinder Roleplaying Game
Engels | Hardcover | 9781601251503 | 01 september 2009 | 560 pagina's
Jason Bulmahn, Sean K. Reynolds - 9781601251503
Engels | Hardcover | 9781601251503 | 01 september 2009 | 560 pagina's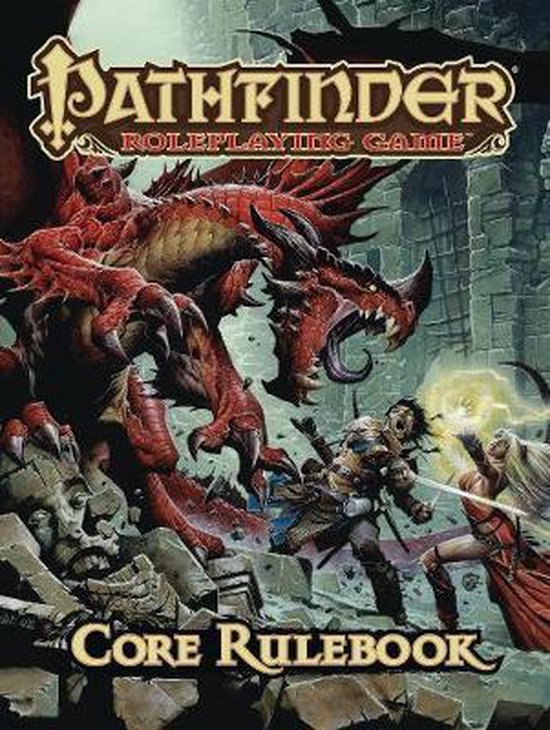 This complete, standalone, fantasy roleplaying game takes your fantasycampaigns to new heights of adventure! Backward-compatible with 3.5fantasy rules but offering new solutions and options that place it firmly onthe cutting edge, the Pathfinder RPG is the culmination of the largestopen public playtest in RPG history. The Pathfinder Roleplaying Game CoreRulebook includes: revised rules for the classic seven fantasy RPG races;updated options for the 11 core classes; a streamlined skill system that makesthings easier for players and GMs; a host of new and familiar feats, includinginnovative combat feats and item creation rules; new equipment; additionalcombat options; overhauled rules for domains, familiars, bonded items, specialtyschools, and more; dozens of new and revised spells; updated rules for NPCs,including quick-generation rules; new rules for curses, diseases, and poisons; acompletely overhauled experience system with options for slow, medium, and fastadvancement; hundreds and hundreds of magic items... and much, muchmore!
Levertijd:
-
Pathfinder Roleplaying Game Engels | Hardcover | 9781601251503 | 01 september 2009 | 560 pagina's
Taal
en
Bindwijze
Hardcover
Oorspronkelijke releasedatum
01 september 2009
Aantal pagina's
560
Illustraties
Nee
Hoofdauteur
Jason Bulmahn
Tweede Auteur
Sean K. Reynolds
Co Auteur
Wayne Reynolds
Hoofdillustrator
Jason Bulmahn
Hoofdredacteur
Jason Bulmahn
Tweede Redacteur
Paizo Publishing
Hoofduitgeverij
Diamond Comic Distributors
Extra groot lettertype
Nee
Gewicht
1255 g
Product breedte
216 mm
Product hoogte
32 mm
Product lengte
292 mm
Studieboek
Nee
Verpakking breedte
222 mm
Verpakking hoogte
32 mm
Verpakking lengte
286 mm