Engels | Druk: 1 | Paperback | 9781578397723 | 130 pagina's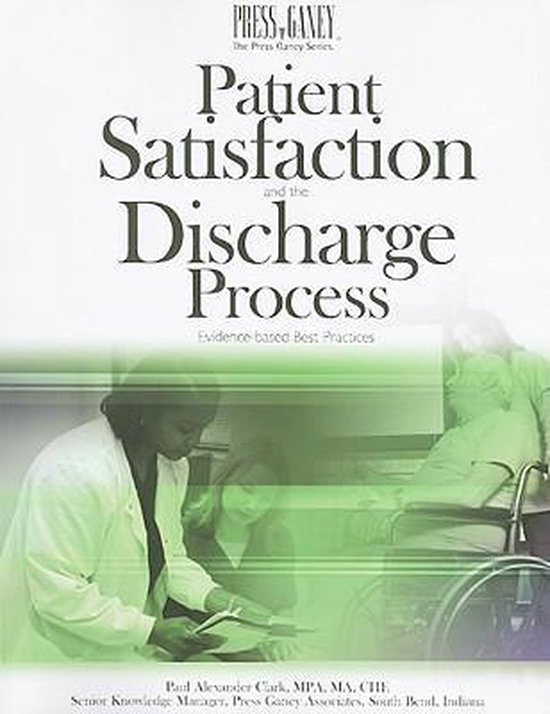 Leaving the hospital setting can be the single most stressful moment of the entire hospital experience--both for patients "and" their families. Research proves that patients' perception of the discharge process an important component to overall satisfaction and loyalty--the final impression of the healthcare experience.How prepared does the patient feel to leave the hospital?How quickly is the discharge process executed?How much thought is given to the self-care instructions the patient takes home? What kind of home care or follow-up services are set in place?
Press Ganey has all the right answers
Press Ganey Associates, the recognized national leader in patient satisfaction and quality research, has developed the hands-on, how-to guide you need to improve your facility's discharge process: "Patient Satisfaction and the Discharge Process: ""Evidence-Based Best Practices."
Jam-packed with best practices Pulled from data gathered from tens of thousands of patient survey responses in more than 6,000 facilities nationwide, "Patient Satisfaction and the Discharge Process "offers a collection of strategies for providing a successful discharge experience for your patients.The facts you need to improve your discharge planning process
The second book in The Press Ganey Series, "Patient Satisfaction and the Discharge Process: ""Evidence-Based Best Practices" delivers 120 pages dedicated to helping healthcare administrators and professionals make measurable improvements to their facility discharge planning process.Based on the best, evidence-based research available
For the first time, "Patient Satisfaction and the Discharge Process "brings together the key national studies and the standards of leading agencies--including CMS, the Joint Commission, and the AMA--on discharge process. No other resource offers the applicable data, relevant research, and proven strategies to aid you in quickly and effectively implementing your discharge planning program under HCAHPS--CMS' new initiative to publicly report patient perceptions of care.After reading this book, you will be able todefine the differences between patient causes and hospital causes of dissatisfaction with the discharge process.describe the key elements of the AMA Guidance on the components of a quality discharge process.list three things hospitals may do that make patients feel rusheddescribe two things hospitals do to cause low scores on patient satisfaction with the speed of discharge.identify three questions staff can ask patients that may elicit unspoken concerns or needs.describe five basic living activities that the patient will face post-discharge and that may lead them to not feel confident that they can care for themselvesdiscuss why it is important to have variation in educational resourcescreate an outline for an effective family caregiver assessmentdescribe the potential impact of post-discharge callbacks and home visits on patient concerns about unanticipated needs arising post-discharge.describe the role and use of "education nurses" at one hospital to successfully improve follow-up and patient satisfaction.
The Length-of-Stay correlation
The best practices found in "Patient Satisfaction and the Discharge Process" have also been identified as key factors for reducing length of stay, improving patient flow, and positively impacting financial outcomes for your hospital. By developing the know-how to improve your discharge planning process and shorten the length of stay for patients, you can achieve better overall quality of care ratings for your facility.Who should read this book?Directors and Managers of QualityPatient Satisfaction Directors and Patient RepresentativesRisk ManagersDirectors of NursingDirectors of Case ManagementSocial Workers and Discharge PlannersChief Nursing Officers
CONTENTS
Introduction
Chapter 1: What does the data say
Chapter 2: Readiness for discharge
Chapter 3: The speed of discharge
Chapter 4: Clear instructions on self care
Chapter 5: Arrangements for follow-up care and home care
Chapter 6: Best practices for focused improvement
Conclusion
Faculty Disclosure: All faculty participating in continuing education provided by HCPro activities are expected to disclose to the learner any real or apparent commercial financial affiliations related to their presentations and materials.
Levertijd:
-
Patient Satisfaction and the Discharge Process Engels | Druk: 1 | Paperback | 9781578397723 | 130 pagina's
Taal
Engels
Bindwijze
Paperback
Druk
1
Verschijningsdatum
2006-05-01
Afmetingen
27,3 x 21 x 1,3 cm
Aantal pagina's
130 pagina's
Illustraties
Met illustraties
Auteur
Paul Alexander Clark
Uitgever
Hcpro Inc.
NUR code
870
Oorspronkelijke releasedatum
2006-05-01
Subtitel
Evidence-Based Best Practices