Wat is dit voor site? Wij zoeken de goedkoopste boeken op internet. Sketching Interiors at the Speed of Thoughtvonden we het goedkoopst op Bol.com voor €0. We hebben gezocht in nieuwe en tweedehands boeken. Rechtsonderaan de pagina kan je het boek direct bestellen via Bol .com.
Sketching Interiors at the Speed of Thought
Engels | Druk: illustrated edition | Hardcover | 9781563673139 | 272 pagina's
Jill B. Pable - 9781563673139
Engels | Druk: illustrated edition | Hardcover | 9781563673139 | 272 pagina's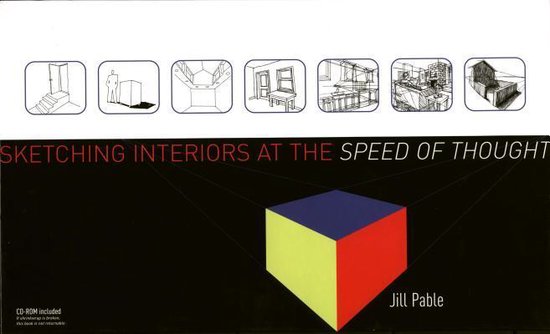 This CD-ROM and workbook package helps students and professionals pursuing a career in interior design to improve their impromptu sketching skills when working face to face with clients. The CD-ROM contains timed exercises that increase in difficulty as the student progresses through the course. The students must complete and reflect on how they might improve each of their sketches and sketching times in order to access each reward section. The CD-ROM also contains sample sketches,videos of professionals sketching or discussing their methods of sketching, and audio role-playing features through which a client gives students directions or suggestions. The students will have the option to repeat these exercises as many times as they need in order to feel comfortable with the sketches they have produced and the time taken to complete them. A spiral bound workbook made of special paper accompanies the CD-ROM and serves as the students sketchbook. Areas in the workbook are designated for students to log their sketching times and keep track of their overall progress. The students will be able to tear out the sheets of this workbook in order to hand them in to their professors. Extra paper is included in the book for students who wish to do assignments several times.
Levertijd:
-
Sketching Interiors at the Speed of Thought Engels | Druk: illustrated edition | Hardcover | 9781563673139 | 272 pagina's
Taal
Engels
Bindwijze
Hardcover
Druk
illustrated edition
Verschijningsdatum
2004-01-01
Afmetingen
Afmeting: 35,6 x 24,8 x 3,2 cm
Aantal pagina's
272 pagina's
Illustraties
Met illustraties
Auteur(s)
Jill B. Pable
Uitgever
Bloomsbury Publishing Plc
Extra groot lettertype
Nee
Gewicht
1633 g
Oorspronkelijke releasedatum
2004-01-01
Verpakking breedte
229 mm
Verpakking hoogte
20 mm
Verpakking lengte
305 mm