Wat is dit voor site? Wij zoeken de goedkoopste boeken op internet. Ecuador Travel Journal, Pop. 15,223,680 + Mevonden we het goedkoopst op Bol.com voor €0. We hebben gezocht in nieuwe en tweedehands boeken. Rechtsonderaan de pagina kan je het boek direct bestellen via Bol .com.
Ecuador Travel Journal, Pop. 15,223,680 + Me
Dragon Dragon Travel Journals - 9781494205256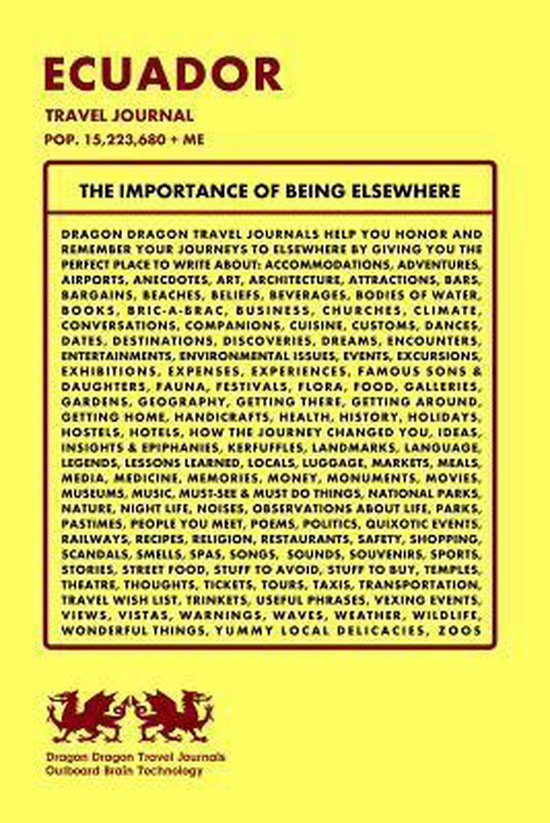 Here's the Dragon Dragon Travel Journal deal.

You wander the world having adventures, and such. Dragon Dragon offers you 200 pages to document your travels, and such. That's it. Simple. Beautiful. True.

To help keep things organized, we've given each journal a unique continent, country or city name.

Wherever you go in this life, a Dragon Dragon Travel Journal can help make the going better and the remembering easier!
Levertijd:
-
Ecuador Travel Journal, Pop. 15,223,680 + Me
Taal
Engels
Aantal pagina's
208 pagina's
Auteur
Dragon Dragon Travel Journals
Bindwijze
Paperback
Gewicht
286 g
Verpakking breedte
152 mm
Verpakking hoogte
11 mm
Verpakking lengte
229 mm