Engels | Druk: 1 | E-book | 9781488587788 | 226 pagina's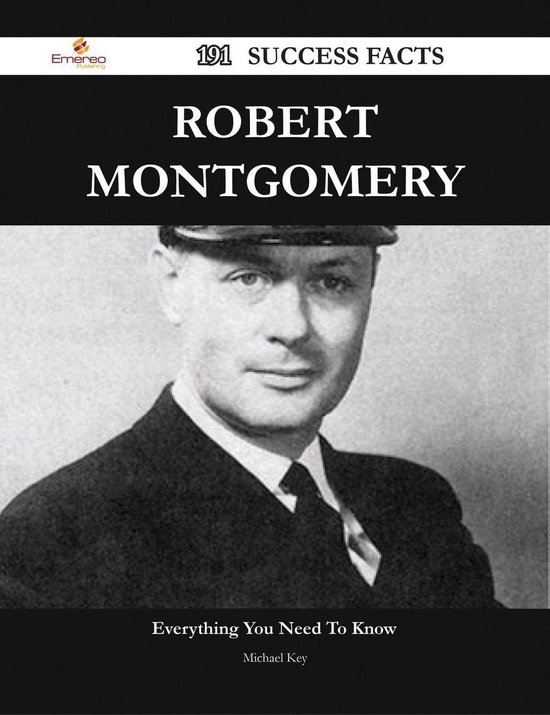 For The Robert Montgomery Maven. 'Robert Montgomery' either 'Bob Montgomery' might allude to: This book is your ultimate resource for Robert Montgomery. Here you will find the most up-to-date 191 Success Facts, Information, and much more.


In easy to read chapters, with extensive references and links to get you to know all there is to know about Robert Montgomery's Early life, Career and Personal life right away.


A quick look inside: That's Entertainment! - Appearances, Our Blushing Brides, No More Ladies, Harry Segall, National Christmas Tree (United States) - Development of the Pageant of Peace and Pathway of Peace, Myrna Loy - Rise to stardom, Martha-Bryan Allen - Life and career, 1932 in film - Notable films released in 1932, Jack Carson - Partial filmography, The Gallant Hours - Reception, Dana Wynter - Career, American Literature - First American novels, Three Loves Has Nancy - Cast, Inspiration (1931 film), Bewitched - Characters, Paul Vogel, Ride the Pink Horse, Luther Adler - As an actor, Elizabeth Montgomery, Dame May Whitty - Film career, National Board of Review Awards 1937 - Winners, Ride the Pink Horse - Cast, Primetime Emmy Award for Outstanding Drama Series - Multiple nominations, Piccadilly Jim (1936 film) - Cast, Anna Lee - Career, Huddle (film) - Production, Torben Meyer - Early career, County Donegal - People, Letty Lynton, Ever Since Eve - Cast, Philip Marlowe - Film adaptations, Lydia Reed, Luther Adler - Life and career, Martha Scott - Television, Salvation (musical) - Production, A Matter of Life and Death (film) - TV, The Big House (1930 film), Hide-Out - Cast, A. J. Antoon - Career, Jean-Pierre Aumont - Career, The Last of Mrs. Cheyney (1937 film) - Synopsis, Private Lives (film) - Cast (in credits order), and much more...

Levertijd: Direct beschikbaar
€16.99
(Exclusief €1,99 verzendkosten)