Engels | Druk: 1 | E-book | 9781488579691 | 236 pagina's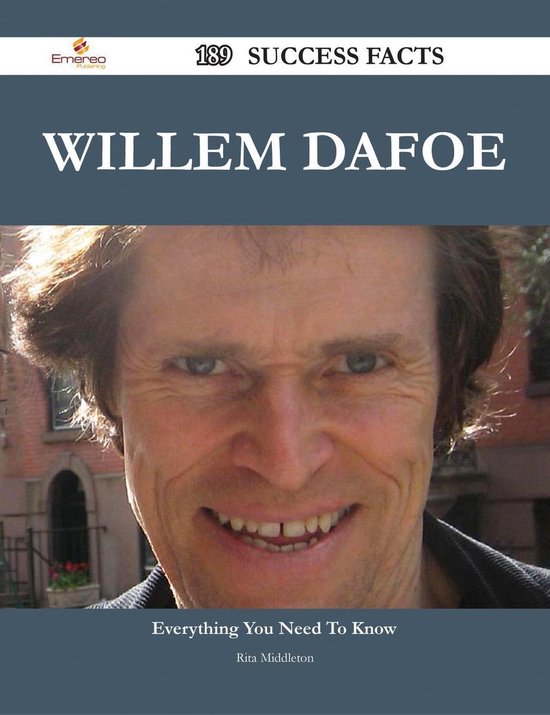 Not just another Willem Dafoe title. This book is your ultimate resource for Willem Dafoe. Here you will find the most up-to-date 189 Success Facts, Information, and much more.


In easy to read chapters, with extensive references and links to get you to know all there is to know about Willem Dafoe's Early life, Career and Personal life right away.


A quick look inside: James Bond - Video games, 1989 in film - R-Z, Daveigh Chase - Acting career, A Princess of Mars - Film adaptations, 1999 in film - E-K, List of film collaborations - S, Mr. Bean's Holiday - Main cast, To Live and Die in L.A. (film) - Impact, Julia Roberts - 2006–present, Finding Dory - Cast, Lulu on the Bridge - Casting, Go Go Tales, Flight of the Intruder, Antichrist (film), Barry Unsworth - Work, Once Upon a Time in Mexico - Cast, Carice van Houten - Acting career, Platoon (film) - Cast, 27th Saturn Awards - Best Supporting Actor, EXistenZ - Cast, Norman Reedus - Film and television, New Rose Hotel (film), Wild at Heart (film) - Awards and honors, Willem Dafoe, The Hunter (2011 Australian film) - Plot, The Hunger (1983 film) - Cast, American Dreamz - Plot, Fireflies in the Garden, Roadhouse 66, Odd Thomas (film), Clear and Present Danger (film) - Cast, Ellen Page - Career, Vince Colosimo - Film career, 2003 in film - R-Z, 1985 in film - Notable films released in 1985, Beyond: Two Souls - Reception, The Reckoning (2003 film), The Last Temptation of Christ (film) - Plot, Golden Raspberry Award for Worst Supporting Actor - 1990s, The Reckoning (2003 film) - Cast, The Wooster Group, Hedingham Castle - Filming and photography, Brandon Routh - Subsequent projects, Auto Focus - Cast, Tales from Earthsea (film) - Voice cast, and much more...

Levertijd: Direct beschikbaar
€16.99
(Exclusief €1,99 verzendkosten)