Engels | Druk: 1 | E-book | 9781488573156 | 174 pagina's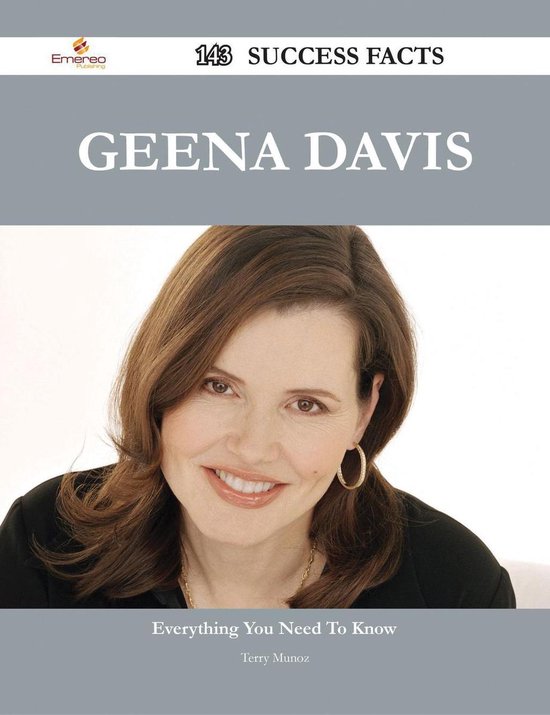 This book is your ultimate resource for Geena Davis. Here you will find the most up-to-date 143 Success Facts, Information, and much more.


In easy to read chapters, with extensive references and links to get you to know all there is to know about Geena Davis's Early life, Career and Personal life right away.


A quick look inside: The Accidental Tourist (film) - Cast, Accidents Happen, Beetlejuice - Reception, Natasha Henstridge - Television, 71st Academy Awards - Ceremony information, Exit 19 - Development and production, Tim Burton - Beetlejuice, Buddy comedy - 1990s: New approaches to the genre, Disclosure (film) - Production, 1994 in film - R-Z, Quick Change - Cast, MTV Movie Award for Best Performance - 1992 MTV Movie Awards|1992, Stuart Little 3: Call of the Wild - Cast, Basic Instinct - Production, Mimi Rogers - Acting, 62nd Academy Awards - Winners and nominees, The Fly (1986 film) - Production, Earth Girls Are Easy - Soundtrack, Wareham High School - Notable Alumni, Coma (U.S. miniseries) - Cast, Golden Globe Award for Best Performance by an Actress In A Television Series - Drama - 2000s, Roy London - Personal life, The Fly (1986 film) - The Fly II, Penny Marshall - Career, Cutthroat Island, Sara (US TV series), Erik Thomson - Career, Lori Petty - Career, Runaway Bride (1999 film) - Production history, List of American actresses - D, Stuart Little 2, Academy Award for Best Actress - Multiple nominations for Best Actress and Best Supporting Actress combined, 1988 in film - C-G, 1999 in film - R-Z, The Fly (1986 film) - Plot, The Long Kiss Goodnight - Cast, Fletch (film) - Cast, The Accidental Tourist (film) - Awards, and much more...

Levertijd: Direct beschikbaar
€16.99
(Exclusief €1,99 verzendkosten)