Engels | Druk: 1 | E-book | 9781488533327 | 60 pagina's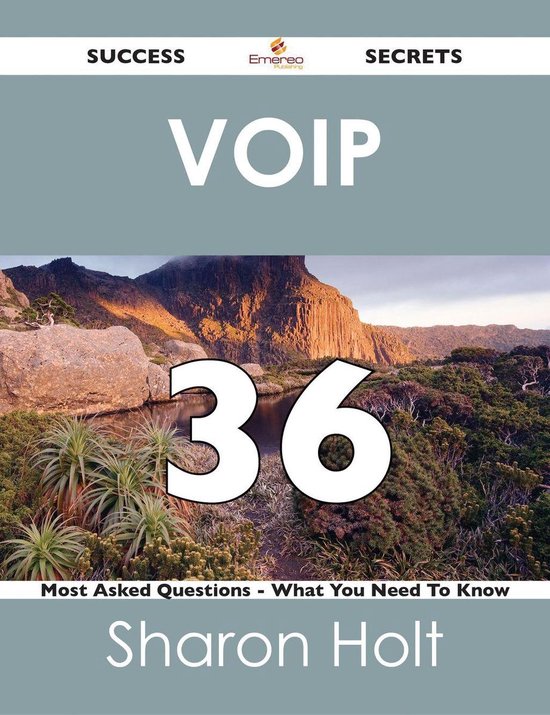 There has never been a VoIP Guide like this. VoIP 36 Success Secrets is not about the ins and outs of VoIP. Instead, it answers the top 36 questions that we are asked and those we come across in our forums, consultancy and education programs.


It tells you exactly how to deal with those questions, with tips that have never before been offered in print. Get the information you need--fast! This comprehensive guide offers a thorough view of key knowledge and detailed insight. This Guide introduces everything you want to know to be successful with VoIP.


A quick look inside of the subjects covered: Organization , Basic load balancing configurations for Netscaler - Citrix Netscaler 9.0, Utilizing Rapidshare CCIE, The WiMAX QoS Compared to Other Technologies, Will ITIL V5 still have Capacity Management as a process? Or is it replaced by Cloud Management?, Technical Management , CCIE Voice Becoming an Expert on VoIP, IP Expert CCIE: Qualify as a VoIP expert, CCIE Written Exams The Most Critical Part of the CCIE Certification, Passing the CCIE Voice Exam Means Expertise in Cisco VoIP Solutions, Why do you need Signalling and Call Control for VoIP? - CCNP - Cisco Certified Network Professional, Information About WiMAX Voip, IPC Information Systems - A world Leader in Solutions Provider, Passing The CCIE Voice Written Exam Is a Good Start, CCNA 640-801, The Focus Areas of the CCNP ONT Exam, The Contents of a CCNA 640 821 Outline, Technical Management, Implementing IP Network Management, Get a Degree in Computer Information Systems, The Map of the Wireless Worlds and WiMax, The Advantages Of Work From Home Call Center, Google Apps , Special Applications for Linux Podcasting, IP Networks (4G) , Preview of CCIE SP Examination, Great Strides in Software Hosting Technology, Completing the Certification by Passing the CCIE Voice Lab Exam, Online Services: MS Office Live Meeting , The Lowdown on CCIE Storage Networking, Going for a CCIE ViOP Certification, What are the major protocols used for VoIP? - CCNP - Cisco Certified Network Professional, Support Issues , Live Casting , Software As A Service (SaaS) : An Introduction to On Demand Applications, IT Disaster Recovery Plan, and much more...

Levertijd: Direct beschikbaar
€15.99
(Exclusief €1,99 verzendkosten)