Engels | Druk: 1 | E-book | 9781486448807 | 212 pagina's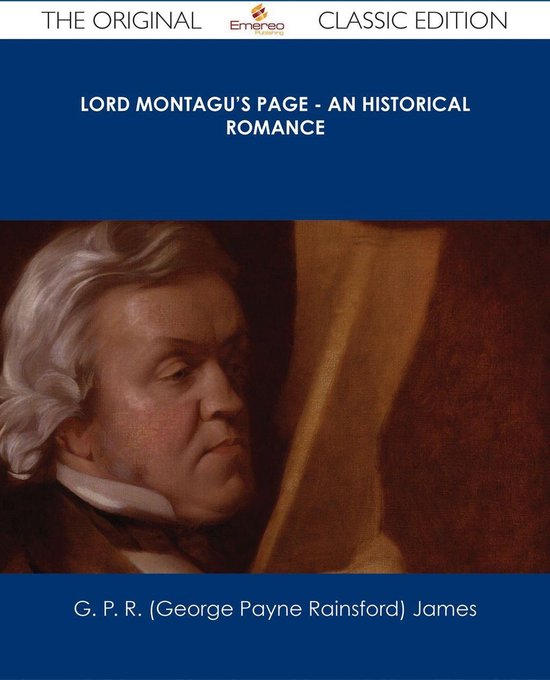 Finally available, a high quality book of the original classic edition of Lord Montagu's Page - An Historical Romance. It was previously published by other bona fide publishers, and is now, after many years, back in print.


This is a new and freshly published edition of this culturally important work by G. P. R. (George Payne Rainsford) James, which is now, at last, again available to you.


Get the PDF and EPUB NOW as well. Included in your purchase you have Lord Montagu's Page - An Historical Romance in EPUB AND PDF format to read on any tablet, eReader, desktop, laptop or smartphone simultaneous - Get it NOW.


Enjoy this classic work today. These selected paragraphs distill the contents and give you a quick look inside Lord Montagu's Page - An Historical Romance:


Look inside the book:


There are a great many explanations and comments, in illustration of the times, which I should like to give for the benefit of that part of my readers who have put on the right of knowing all things at the same time that the third change was made in their dress, and I would have done so, in notes; but, unfortunately, I do not write Greek; and a little incident prevented me from writing those notes in Latin. ...I therefore most reverently beseech the moral mosquitos, who are accustomed to whistle and sing about my lowly path, to forbear as much as possible; and, although their critical virulence may be aroused to the highest pitch by seeing a man walk quietly on for thirty years along the only firm path he can find amongst the bogs and quagmires of literature, to spare at least those parts which are left naked by his tailor and his shoemaker; to remember, in other words, that, besides the faults and errors for which I am myself clearly responsible, there is some allowance to be made for the faults of my amanuensis and for the errors of my printer. ...Tom, the sailor, though a reckless, ill-conditioned fellow, was obedient to the voice of his commander, and, after having boused the boom a little to the one side or the other of the vessel,—which side I neither know nor care,—he returned to the bow, muttering a few objurgations of the youth, implying that if it had not been for him they would never have come upon that d——d voyage at all, and that probably they all would go to the bottom for having such a Jonah on board.


About G. P. R. (George Payne Rainsford) James, the Author:


George Payne Rainsford James (August 9, 1799 – June 9, 1860), was an English novelist and historical writer, the son of a physician in London. ...After reading Richilieu, which had been given to him by a friend, and after receiving a letter from James, Walter Scott advised him to take up literature as a profession.

Levertijd: Direct beschikbaar
€9.99
(Exclusief €1,99 verzendkosten)