Engels | Druk: 1 | E-book | 9781486412952 | 144 pagina's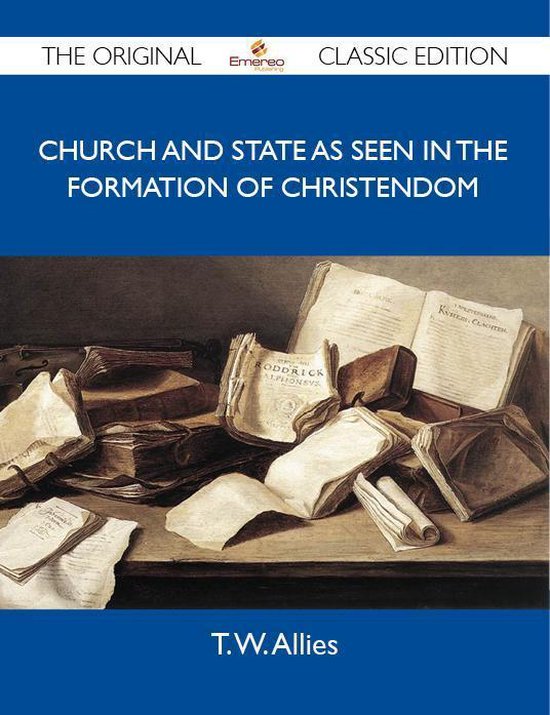 This is a high quality book of the original classic edition.


This is a freshly published edition of this culturally important work, which is now, at last, again available to you.


Enjoy this classic work.


Introduction by the author:


In truth, the relation between Church and State leads perhaps more directly than any other to the heart of Christendom; for Christendom, both in word and idea, means not only one and the same Church subsisting in all civil governments, but also a community of Christian governments, having a common belief and common principles of action, grounded upon the Incarnation of the Son of God, and the Redemption wrought thereby.


For this reason, the Formation of Christendom can hardly be described, unless the relation which ought by the institution of God to subsist between the two great Powers, the Spiritual and Civil, appointed to rule human society, is first clearly established. In this volume, therefore, I treat first of the relation of these two Powers before the coming of Christ. Secondly, of their relation as it was affected by that coming, in order to show what position the Church of Christ originally took up in regard to the Civil Power, and what the behaviour of the Civil Power towards the Church was. And, thirdly, the question of principles being thus laid down, the remainder of the volume is occupied with the historical exhibition of the subject during the first three centuries; that is, from the Day of Pentecost to the Nicene Council.


The supreme importance of that period will appear to all who reflect that the Church from the beginning, and in the first centuries of her existence, must be the same in principles with the Church of the nineteenth and every succeeding century. And this volume is, in fact, a prelude to the treatment of the same subject in the last three centuries, down to the Ecumenical Council of the Vatican. The subject which I am treating is, then, strictly historical, being the action of a King in the establishment of a kingdom; the action of a Lawgiver in the legislation which He gave to that kingdom; the action of a Priest in founding a hierarchy, whereby that kingdom consists; but, moreover, which is something much more?the action of One who is Priest, Lawgiver, and King at once and always, and therefore whose work is at once one and triple, and indivisible in its unity and triplicity, and issuing in the forming of a people which is simply the creation of its King.

Levertijd: Direct beschikbaar
€5.99
(Exclusief €1,99 verzendkosten)