Engels | Druk: 1 | Luisterboek op CD | Verteller: William Hughes | 9781470809485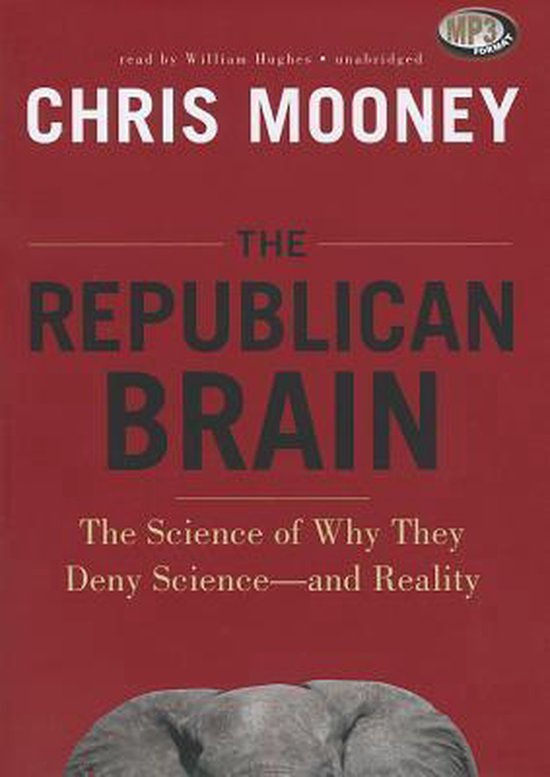 Why do so many Republicans believe man-made climate change is a hoax? The two most common explanations are that the deniers are uninformed or that they have been bought off by corporate money. Bestselling author Chris Mooney isn't buying either of those arguments. In fact, as he points out, the better educated a conservative is, the more likely he is to dismiss climate change concerns. How can that be?

Part of the answer lies with motivated reasoning¿the psychological phenomenon of preferring only evidence that backs up your belief¿but in The Republican Brain, Mooney explains that is just the tip of the cognitive iceberg. There is a growing body of evidence that conservatives and liberals don't just have differing ideologies; they have different psychologies. How could the rejection of mainstream science be growing among Republicans, along with the denial of expert consensus on the economy, American history, foreign policy, and much more? Why won't Republicans accept things that most experts agree on? Why are they constantly fighting against the facts? Increasingly, the answer appears to be: it's just part of who they are.

Mooney explores brain scans, polls, and psychology experiments to explain why conservatives today believe more wrong things; appear more likely than Democrats to oppose new ideas; are less likely to change their beliefs in the face of new facts; and sometimes respond to compelling evidence by doubling down on their current beliefs.

The answer begins with some measurable personality traits that strongly correspond with political preferences. For instance, people more wedded to certainty tend to become conservatives; people craving novelty, liberals. Surprisingly, openness to new experiences and fastidiousness are better predictors of political preference than income or education. If you like to keep your house neat and see the world in a relatively black and white way, you're probably going to vote Republican. If you've recently moved to a big city to see what else life has to offer, you're probably going to vote Democrat. These basic differences in openness and curiosity, Mooney argues, fuel an ''expertise gap'' between left and right that explains much of the battle today over what is true.

Being a good liberal, Mooney also has to explore the implications of these findings for Democrats as well. Are they really wishy-washy flip-floppers? Well, sometimes. Can't they be just as dogmatic about issues close to their hearts, like autism and vaccines, or nuclear power? His research leads to some surprising conclusions.

While the evolutionary advantages of both liberal and conservative psychologies seem obvious, clashes between them in modern life have led to a crisis in our politics. A significant chunk of the electorate, it seems, will never accept the facts as they are, no matter how strong the evidence. Understanding the psychology of the left and the right, Mooney argues, should therefore fundamentally alter the way we approach the he-said-he-said of public debates.

Certain to spark discussion and debate, The Republican Brain also promises to add to the lengthy list of persuasive scientific findings that Republicans reject and deny.
Levertijd:
-
The Republican Brain Engels | Druk: 1 | Luisterboek op CD | Verteller: William Hughes | 9781470809485
Taal
Engels
Bindwijze
Luisterboek op CD
Druk
1
Verschijningsdatum
april 2012
Afmetingen
Afmeting: 19,1 x 13,3 x 1,3 cm
Illustraties
Nee
Auteur
Chris Mooney
Verteller(s)
William Hughes
Uitgever
Blackstone Audiobooks
Extra groot lettertype
Nee
Gewicht
100 g
Verpakking breedte
135 mm
Verpakking hoogte
15 mm
Verpakking lengte
191 mm