Engels | E-book | 9781440843853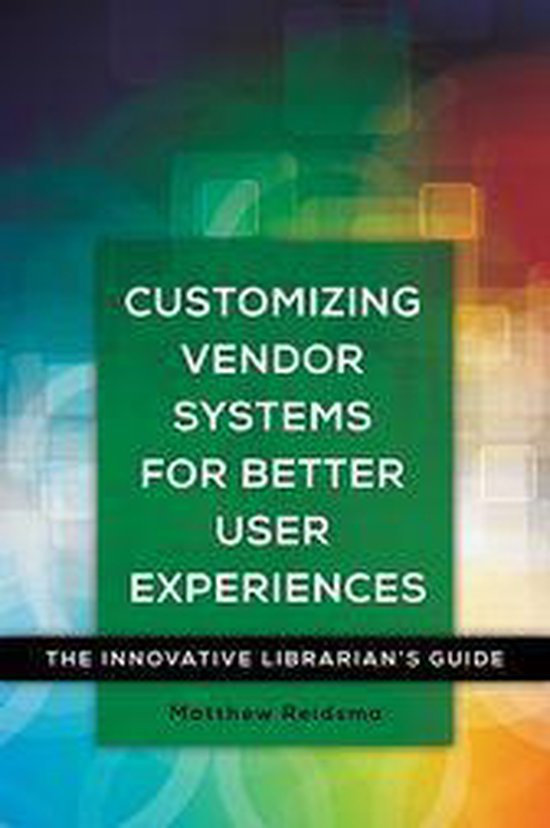 Discover how—with relatively straightforward scripts and minimal coding—to customize the user interfaces to third-party systems from your library's website for better communication with your users and to lead them to your library's services.
In order to provide access to online resources, libraries depend on third-party vendor software that comes with each product. While these systems do have value, they can also be confusing, awkward, frustrating, or even misleading for library users. Imagine how much better your patrons' user experience would be if the software were customized specifically to fit your library. This how-to guide shows library staff how to take a DIY approach to customize the web interface to vendor-hosted online systems, thereby resolving usability problems and providing the ability to respond quickly to problems or evolving needs.
The book begins with an explanation of how to test library vendor software for user experience, then goes on to present solutions to common usability problems through tutorials and case studies on using JavaScript or jQuery to change how a web browser displays that software. It also covers ongoing assessment methods to ensure that user needs have been satisfied. By using these tools, libraries can take some control of "black box" library software and customize it based on local needs.
Offers a DIY solution for non-programmers to the perennial problem of online systems that don't exactly match individual library needs
Enables librarians to direct users to their library services and get specific "help" information pertinent to their local library
Demonstrates how to make vendor interfaces much easier for their library community to use
Emphasizes the value of unifying library online resources under a consistent "look and feel" (branding)
Levertijd: Direct beschikbaar
€45.99

Customizing Vendor Systems for Better User Experiences: The Innovative Librarian's Guide Engels | E-book | 9781440843853
Taal
Engels
Bindwijze
E-book
Verschijningsdatum
mei 2016
Ebook formaat
Adobe ePub
Illustraties
Met illustraties
Auteur(s)
Matthew Reidsma
Uitgever
Libraries Unlimited
Lees dit ebook op
Android (smartphone en tablet) | Kobo e-reader | Desktop (Mac en Windows) | iOS (smartphone en tablet) | Windows (smartphone en tablet)
Ebook formaat
Adobe ePub
Studieboek
Nee