Wat is dit voor site? Wij zoeken de goedkoopste boeken op internet. Training the Gaited Horsevonden we het goedkoopst op Bol.com voor €25.99. We hebben gezocht in nieuwe en tweedehands boeken. Rechtsonderaan de pagina kan je het boek direct bestellen via Bol .com.
Training the Gaited Horse
Engels | Hardcover | 9781438944319 | 176 pagina's
Gary Lane, Professor Gary, I.M Lane - 9781438944319
Engels | Hardcover | 9781438944319 | 176 pagina's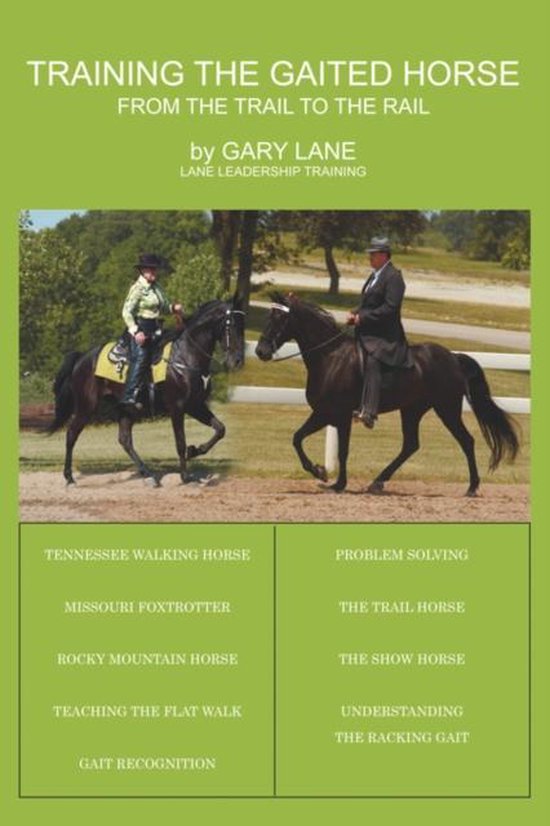 This book takes into consideration training the gaited horse for the trail or the rail for a show horse. The book is a detailed look at the gaits of the Tennessee Walking Horse, Missouri Fox Trotter, and the Rocky Mountain Horse. More importantly the book teaches you a training program that is easy to follow for a smooth easy gaited horse. You will have a complete understanding of the gaits and problem solving at your fingertips. No matter what your training goal are, trail riding or showing. This book will help you understand gaits, training and retraining for a great gaited horse. Consider your horse natural ability and train to a sound standard that matches that ability. Teaching your horse to flat foot walk is fun and easy following the method described in this book. Enjoy the journey be safe and have fun.
Levertijd: 2 - 3 weken
€25.99

Training the Gaited Horse Engels | Hardcover | 9781438944319 | 176 pagina's
Taal
Engels
Bindwijze
Hardcover
Verschijningsdatum
januari 2009
Afmetingen
22,9 x 15,2 x 1,9 cm
Aantal pagina's
176 pagina's
Illustraties
Met illustraties
Auteur
Gary Lane | Professor Gary, I.M Lane
Co-auteur
Professor Gary, I.M Lane
Uitgever
Authorhouse
Extra groot lettertype
Nee
Gewicht
417 g
Verpakking breedte
229 mm
Verpakking hoogte
14 mm
Verpakking lengte
152 mm
Bekijk alle opties Afrekenen Voeg toe aan lijst
Gerelateerde producten
Geen gerelateerde boeken gevonden