Engels | Hardcover | 9781413476101 | 356 pagina's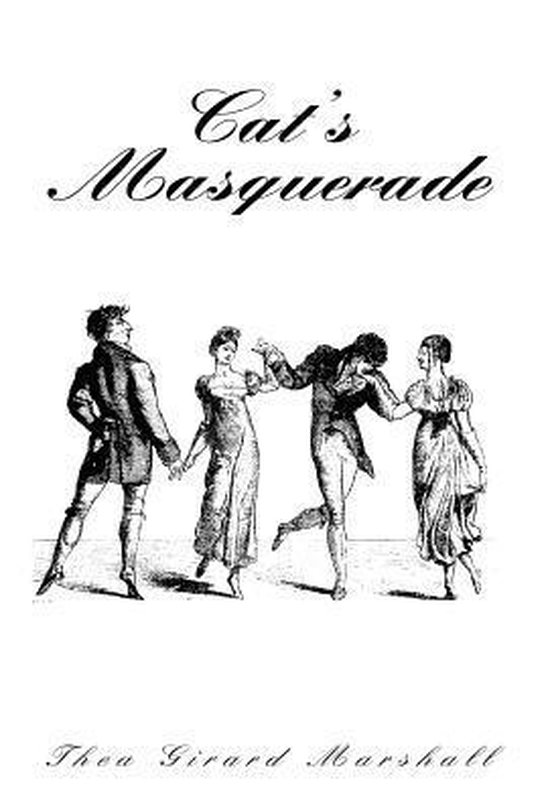 Cats Masquerade


War! The rights of women! The growing gap between the rich and the poor! Sound familiar? All of this was happening in the year 1803, when Caitlyn Llewellyn, only child and heiress to a large fortune, ran away, disguised as a maid, from her arranged marriage to her fathers old friend, the Earl of Falconbridge, to find love and a marriage of her own choosing during Londons Season.


Caitlyns plan to run away to London and her Aunt Henrietta goes awry immediately. Caitlyn anticipated a lighthearted acceptance of her own unmasking, but she quickly realizes that her employer, the rich and beautiful young Clarissa Thomas, would not welcome a rival. The exposure of Cats masquerade as the ladys maid Cat Griffyn would imperil Caitlyns plan of having a Season. When Cat arrives in London, she finds that her aunt will not arrive for several weeks, obliging Cat to continue as a servant.


Cat finds herself in danger from another source, the rich and mysterious Vere Courtenay Fairfax. When he first meets her upon the road to London, in her guise as a ladys maid, he is immediately taken by her beauty and resolves to follow her to London. After their first meeting, he seeks to hide the deep and powerful currents of his sensual desire behind a mien of disinterested and proper etiquette, but Cat is not deceived. Fairfax is never far from Cat as she goes about her days as Clarissas maid.


A perfect correctness marks the manner of Lucien Montclair, the Comte du Foix, who also notices Cat during her service to Clarissa Thomas. He is a French migr. His charm and lightness of manner in the face of the tragedy of the French Revolution touch Cat, and she is enchanted by his kindness. Not so charming is the Thomases skulking footman, Roberts, whose desire to exact revenge on Cat puts everyone in danger.


With the assistance of Lady Bullstrode, a bustling busybody, Cat escapes scandal and enters the glittering world of London Society. Sponsored by her Aunt Henrietta and aided by Lady Bullstrode, Cat scales the heights of the fashionable world. There she meets Mr. Fairfax and the Comte again.


Against her will, she is drawn to Mr. Fairfax, whose passion has ignited her own. She is relieved when her father confesses by letter that her arranged bridegroom was not the old Lord Falconbridge, but his son, the Count of Montferrato. The new Earl of Falconbridge begins a correspondence with Cat, who hopes to find the answer to her passionate longings for Mr. Fairfax in marriage to the Earl of Falconbridge, whose letters hint at a nature well matched to her own.


The Duchess of Devonshires masquerade ball begins the shattering climax that will reveal the true faces of Caitlyn and her suitors in Cats Masquerade.


The evocation of the London of 1803 in Cats Masquerade is replete with the historical personages of that time and their milieu. The rich historical tapestry through which the main fictional characters move, with its real people, sights, sounds, and places, comes alive through the prose and dialogue. The Duchess of Devonshire, Beau Brummell, the Prince of Wales, Gentleman Jackson, and Tom Cribb live again in this story, which takes the reader to all the highlights of the Season, from Presentation at Court, dancing at Almacks, and promenading in the Park to boxing at the Fives Court and bidding at Tattersalls. The sumptuous life of the upper classes, with its hidden shoals of danger, is recreated in vivid detail.


There is something for everyone at Cats Masquerade: mystery, intrigue, passion, sexual awakening, coming of age, and danger, all woven in a fabric of horse racing, boxing, operas, balls, social ambition, and a love both forbidden and dangerous.

Levertijd: Verwacht over 10 weken
€31.99