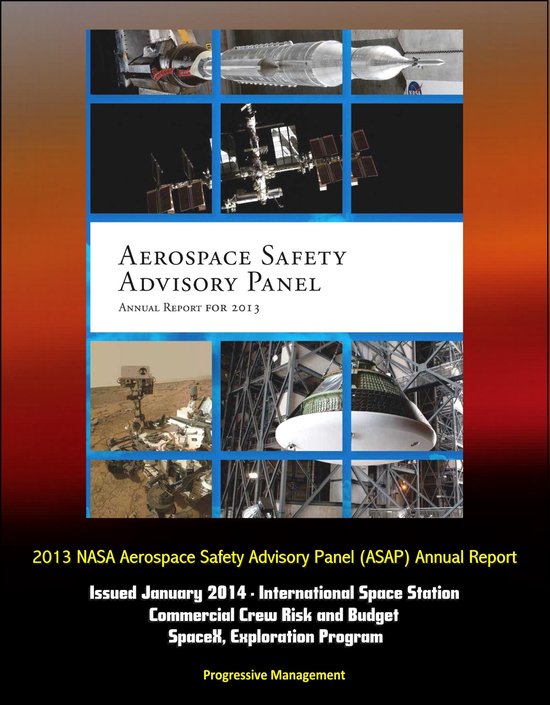 The 2013 report by the ASAP safety advisory panel to NASA, released in January 2014, presents findings on various important spaceflight safety topics, including the Commercial Crew Program and the Space Launch System (SLS). In addition to the full 2013 report, the revealing minutes of ASAP public meetings in 2013, 2012 and 2011, and the 2012, 2011 and 2010 ASAP reports are also included in this flowing-text ebook format reproduction.
From Chairman Dyer's introduction letter:
Funding uncertainty was highlighted as a long-standing concern in last year's report. While the budget request to appropriated funding ratio was slightly improved in 2013, as depicted in the figure below, the shortfall remains a top concern and the 2014 budget remains uncertain. This shortfall is seriously impacting acquisition strategy, and there is risk that force-fitting the CCP into a fixed-price contract with only the funds available has the potential to adversely impact safety.
Even though transitioning from a Space Act Agreement to a Federal Acquisition Regulation contract is a positive step in the direction of greater insight and safety, many within the community of interest worry that NASA is being perceived as sending a message that cost outranks safety in the CCP Request for Proposal (RFP). NASA staunchly rejects this concern and notes that it is not bound to accept the lowest cost proposal. The RFP Relative Order of Importance of Evaluation Factors conveys: "Mission Suitability and Past Performance, when combined, are approximately equal to Price. The Price factor is more important than Mission Suitability, which is more important than Past Performance."
The ASAP does not recommend suspending efforts to return the U.S. to a capability to launch humans into space, even in the face of budget or other real-world constraints that yield increased risk in pursuit of great reward. However, we fundamentally believe that NASA should be plain-speaking and transparent with regard to risk acceptance and that risk and reward must be pursued in harmony and balance.
We note that significant progress has been made in improving the safety related to the ISS via mitigation of micrometeoroid and orbital debris risk and planning for end-of-life and deorbit. Likewise, we are most pleased to report that NASA has clearly articulated changes to the Technical Authority process and is in the process of implementing them. We have recommended that NASA proceed to fully adopt these changes without delay.
Levertijd: Direct beschikbaar
€9.15
(Exclusief €1,99 verzendkosten)