Engels | Paperback | 9781119705154 | 30 juni 2022 | 592 pagina's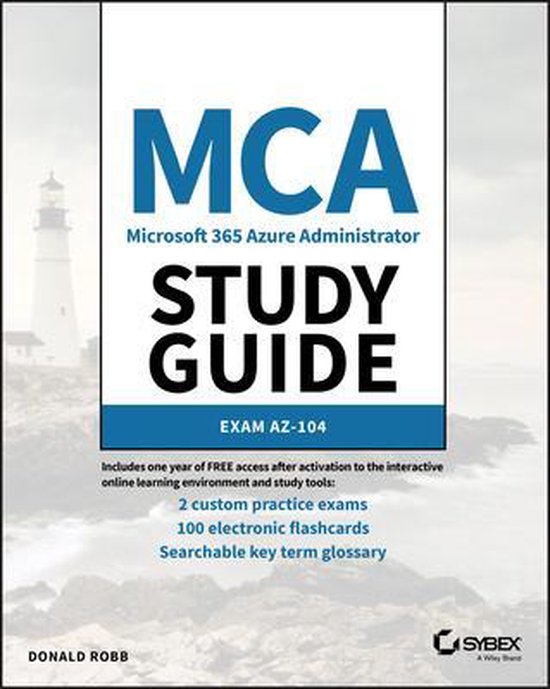 Your complete guide to passing the MCA Microsoft Certified Associate Azure Administrator exam
Achieving Microsoft Certified Associate Azure Administrator certification shows that you are adept at deploying and managing infrastructure in Microsoft Azure cloud environments. This Sybex Study Guide covers everything you need to master in order to pass the challenging AZ-104 exam. It leads you through the skills and knowledge you must demonstrate in all the essential exam domains, including managing Azure subscriptions and resources, implementing and managing storage, configuring and managing virtual networks, and managing identities. Add access to the Sybex interactive online learning environment and test bank and take your test preparation to the next level.
Coverage of 100% of all exam objectives in this Study Guide means you'll be ready for:
Managing Azure identities and governance
Implementing and managing storage
Deploying and managing Azure compute resources
Configuring and managing virtual networking
Monitoring and backing up Azure resources
ABOUT THE MCA AZURE ADMINISTRATOR CERTIFICATION
Candidates for the MCA Microsoft Certified Associate Azure Administrator certification have proven their skills in implementing, monitoring, and maintaining Microsoft Azure solutions, including major services related to compute, storage, network, and security.
Interactive learning environment
Take your exam prep to the next level with Sybex's superior interactive online study tools. To access our learning environment, simply visit www.wiley.com/go/sybextestprep, register your book to receive your unique PIN, and instantly gain one year of FREE access after activation to:
Interactive test bank with 2 practice exams to help you identify areas where further review is needed. Get more than 90% of the answers correct, and you're ready to take the certification exam.
100 electronic flashcards to reinforce learning and last-minute prep before the exam
Comprehensive glossary in PDF format gives you instant access to the key terms so you are fully prepared
Levertijd: 2 - 3 weken
€49.99 (nieuw: €50.76) Besparing: 2 %
(Inclusief €1,99 servicekosten)