Engels | Hardcover | 9781119144755 | 06 november 2015 | 288 pagina's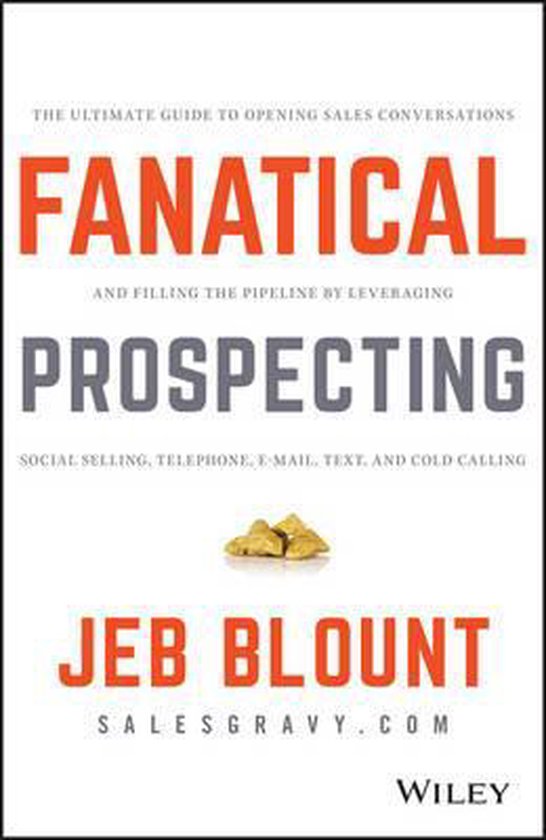 Fanatical Prospecting gives salespeople, sales leaders, entrepreneurs, and executives a practical, eye-opening guide that clearly explains the why and how behind the most important activity in sales and business development prospecting.

The brutal fact is the number one reason for failure in sales is an empty pipe and the root cause of an empty pipeline is the failure to consistently prospect. By ignoring the muscle of prospecting, many otherwise competent salespeople and sales organizations consistently underperform.

With Fanatical Prospecting as a guide, salespeople can ditch all the failed strategies and trendy, ineffective approaches, that leave them frustrated and getting nowhere, and learn a sure-fire method for increasing sales. Step by step, Jeb Blount outlines his innovative approach to prospecting that works for real people, in the real world, with real prospects.

Learn how to keep the pipeline full of qualified opportunities and avoid debilitating sales slumps by leveraging a balanced prospecting methodology across multiple prospecting channels.

You'll discover:
The 30-Day Rule
The Law of Replacement
The Law of Familiarity
5 Cs of Social Selling
5 Step Telephone Framework
3 Keys to Turning Around Objections
3 Rules of E-Mail Prospecting
7 Keys to Text Message Prospecting
The 3 Ps Holding You Back
And so much more
Jeb Blount reveals the real secret to gaining more appointments and even how to get prospects to call you with social prospecting. His simple 5-Step Telephone Prospecting Framework gives you the power to cut right through resistance and objections. Learn how to double your call backs with a simple but powerful voice mail technique and develop the confidence to quickly bypass objections, brush-offs, and reflexive responses by employing an effective 3-step turn-around technique. Fanatical Prospecting also includes winning techniques for creating persuasive, compelling e-mails and text messages that turn prospects into customers.
Break free from the fear and frustration that is holding you and your team back from effective and consistent prospecting. Fanatical Prospecting is filled with the high-powered strategies, techniques, and tools you need to fill your pipeline with high-quality opportunities and become a Superstar with a super income to match.
Levertijd: Op voorraad. Voor 23:59 besteld, morgen in huis
€18.69
(Exclusief €1,99 verzendkosten)
Fanatical Prospecting Engels | Hardcover | 9781119144755 | 06 november 2015 | 288 pagina's
Taal
en
Bindwijze
Hardcover
Oorspronkelijke releasedatum
06 november 2015
Aantal pagina's
288
Illustraties
Nee
Hoofdauteur
Jeb Blount
Tweede Auteur
Mike Weinberg
Hoofduitgeverij
John Wiley & Sons Inc
Extra groot lettertype
Nee
Gewicht
422 g
Product breedte
150 mm
Product hoogte
22 mm
Product lengte
210 mm
Studieboek
Ja
Verpakking breedte
151 mm
Verpakking hoogte
32 mm
Verpakking lengte
222 mm