Engels | Hardcover | 9781118510605 | 20 september 2013 | 672 pagina's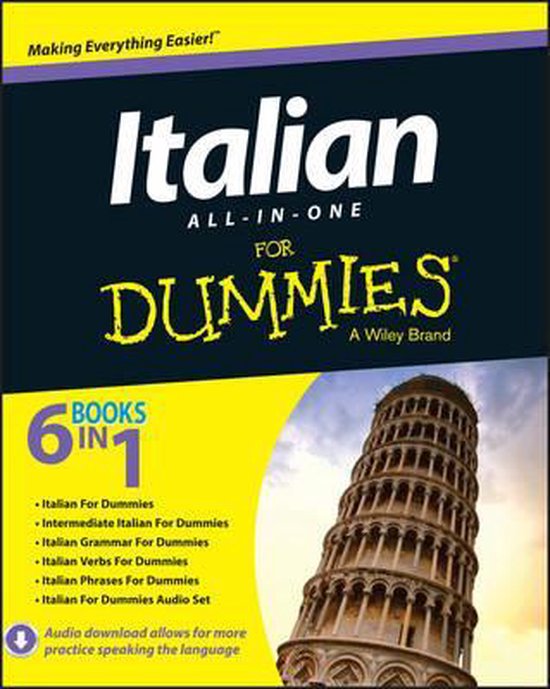 Learn to speak Italian like a native? Easy. Italian All-in-One For Dummies appeals to those readers looking for a comprehensive, all-encompassing guide to mastering the Italian language.


6 BOOKS IN 1
Italian For Dummies
Intermediate Italian For Dummies
Italian Grammar For Dummies
Italian Verbs For Dummies
Italian Phrases For Dummies
Italian For Dummies Audio Set
Your all-encompassing guide to speaking, reading, and writing Italian
Buongiorno! Italian All-in-One For Dummies brings together content from the Italian Dummies library into one handy guide that covers all the bases of the Italian language. Plus, go beyond the book and get online for access to even more opportunities to practice speaking the language. If you want to improve your Italian, whether it's for work, travel, or enjoyment, Italian All-in-One For Dummies has you covered.
Talkin'the talk — explore some basic Italian pronunciations and phrases, common greetings, and everyday conversational topics
Out and about — get the know-how to confidently navigate public transportation, dine out, find a hotel, and handle an emergency in Italian-speaking regions
Get down with grammar — grasp the various parts of speech, including nouns, articles, pronouns, adjectives, adverbs, verbs, and tenses
If you build it... — find out how to build compound tenses, use reflexive verbs in the past, master the past conditional and past perfect, get a grip on progressing through gerunds in Italian, and more
Open the book and find:
Popular Italian phrases and expressions
How to get numbers, dates, and times in line
Tips for asking and answering questions
How to make Italian sentences grammatically correct
Correct ways to use verbs, tenses, and moods in Italian
Italian-English and English-Italian mini-dictionaries
Verb tables for conjugating commonly used verbs
Games and exercises
Levertijd: Uiterlijk 1 april in huis
€20.99

Italian All In One For Dummies Engels | Hardcover | 9781118510605 | 20 september 2013 | 672 pagina's
Taal
en
Bindwijze
Hardcover
Oorspronkelijke releasedatum
20 september 2013
Aantal pagina's
672
Illustraties
Nee
Hoofdauteur
C Dummies
Tweede Auteur
Francesca Romana Onofri
Co Auteur
Karen Antje Moeller
Hoofduitgeverij
Onbekend
Extra groot lettertype
Nee
Gewicht
886 g
Product breedte
185 mm
Product hoogte
34 mm
Product lengte
245 mm
Studieboek
Ja
Verpakking breedte
187 mm
Verpakking hoogte
38 mm
Verpakking lengte
238 mm