Engels | Paperback | 9780996950725 | 136 pagina's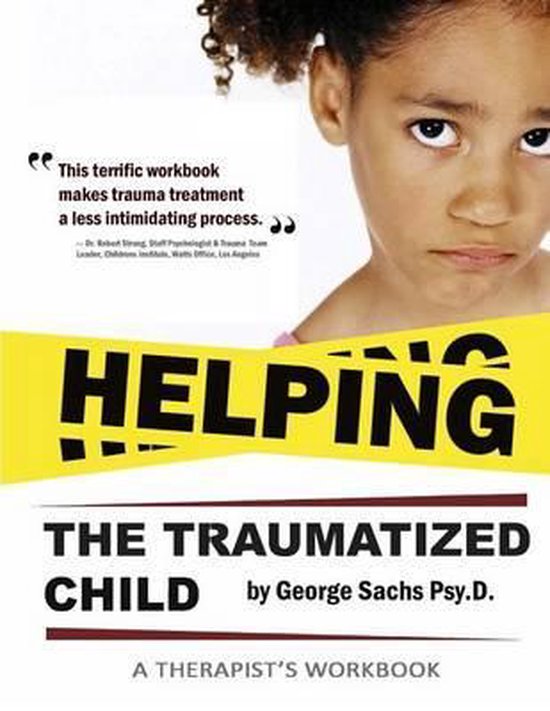 This helpful workbook is designed to support TFCBT therapists and trauma therapists in their work with traumatized children.
Trauma-Focused Cognitive Behavioral Therapy (TF-CBT) is an evidence-based psychotherapy that aims at addressing the needs of children and adolescents (ages 3 to 18) with Post-Traumatic Stress Disorder (PTSD) and other difficulties related to traumatic life events.
Helping the Traumatized Child is designed as a tool for therapists to use with children and adolescents who have experienced trauma. The activities in this workbook are based on cutting-edge research in the field of trauma treatment for children. Studies have found that educating children about trauma, providing positive stress management techniques, reexposing the child to the traumatic events, and changing children's distorted thoughts about the trauma, are all effective strategies for ameliorating the symptoms of Post-Traumatic Stress Disorder (PTSD).
This book offers the therapist these sound scientific methods in an easy to use, child-friendly form. The activities are best used with children ages seven to eighteen, but can be tailored for children as young as four-years old.
This workbook is not designed to be used alone, but rather as a companion to an existing knowledge base of trauma treatment with children. Basic principles of child psychotherapy and child maltreatment are not included in this text. It is recommended, therefore, that, while using this manual, clinicians read other sources for treating traumatized children. I suggest the book Treating Trauma and Traumatic Grief in Children and Adolescents by Judith Cohen, PhD, Anthony Mannarino, PhD and Esther Deblinger, PhD.
The workbook also comes with a free downloadable version of the workbook, which allows for easy printing of the child-friendly materials to use in sessions.
Table Of Contents:
"Getting to Know Me" Goal: Assessment & Goal Setting
"What is Trauma & Abuse?" Goal: Psycho-education of Trauma and Abuse
"Managing My Emotions" Goal: Emotion Identification & Regulation
"Managing Stress" Goal: Relaxation Training & Thought Stopping
"Managing My Thoughts" Goal: Connecting Thoughts to Feelings and Actions
"Trauma Timeline" Goal: Outlining Traumatic Events
"Trauma Narrative" Goal: Exposure of Traumatic Events with Thoughts & Feelings
"Changing Unhelpful Thoughts" Goal: Reprocessing Distorted Thoughts
"Being Safe" Goal: Sharing Trauma Narrative w/Caregiver. Safety Planning & Graduation Examples of worksheets
My Universe
This activity is helpful in determining the child's support system and who he feels close to in the family or circle of friends. I was surprised, when using this activity with a twelve-year-old boy to see that he put his abusive mother in the largest "planet" nearest to him. This was essential information as we progressed in treatment, as it helped me understand his conflicted relationship with his mother.
The Family Zoo
This projective drawing activity allows the therapist to see how the child views his family and his position or place in that family. Like "My Universe," this activity is helpful in determining which adult the child feels close to and safe enough to share his trauma story with at the end of treatment.
Time Machine
Many children harbor fantasies about what they wish had happened instead of the "bad thing" that really occurred in the past. For example: a child who was sexually abused may wish the abusing relative had been nice to her and had not been abusive. Or a child who loses a father in a traumatic boating accident may wish that the father had not gone on the trip. It is important for the child to express these fantasies if the trauma narrative is to proceed.
Levertijd: Verwacht over 9 weken
€25.99

Helping the Traumatized Child Engels | Paperback | 9780996950725 | 136 pagina's
Taal
Engels
Bindwijze
Paperback
Verschijningsdatum
december 2015
Aantal pagina's
136 pagina's
Illustraties
Nee
Auteur
George Sachs Psyd
Uitgever
Sachs Center
Extra groot lettertype
Nee
Gewicht
331 g
Verpakking breedte
216 mm
Verpakking hoogte
7 mm
Verpakking lengte
279 mm