Fredrik Andersson, Harry J. Holzer - 9780871540560
Engels | Druk: 1 | Paperback | 9780871540560 | 179 pagina's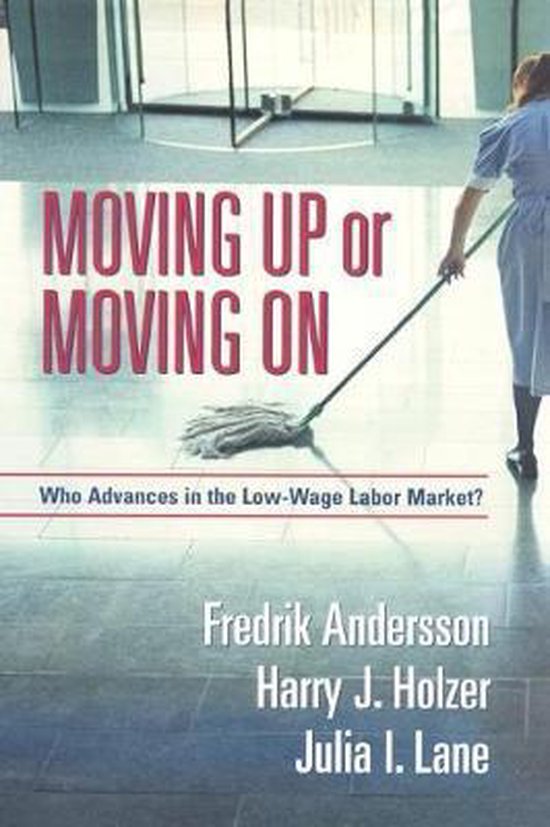 For over a decade, policy makers have emphasized work as the best means to escape poverty. However, millions of working Americans still fall below the poverty line. Though many of these ''working poor'' remain mired in poverty for long periods, some eventually climb their way up the earnings ladder. These success stories show that the low wage labor market is not necessarily a dead end, but little research to date has focused on how these upwardly mobile workers get ahead. In Moving Up or Moving On, Fredrik Andersson, Harry Holzer, and Julia Lane examine the characteristics of both employees and employers that lead to positive outcomes for workers. Using new Census data, Moving Up or Moving On follows a group of low earners over a nine-year period to analyze the behaviors and characteristics of individuals and employers that lead workers to successful career outcomes. The authors find that, in general, workers who ''moved on'' to different employers fared better than those who tried to ''move up'' within the same firm. While changing employers meant losing valuable job tenure and spending more time out of work than those who stayed put, workers who left their jobs in search of better opportunity elsewhere ended up with significantly higher earnings in the long term—in large part because they were able to find employers that paid better wages and offered more possibilities for promotion. Yet moving on to better jobs is difficult for many of the working poor because they lack access to good-paying firms. Andersson, Holzer, and Lane demonstrate that low-wage workers tend to live far from good paying employers, making an improved transportation infrastructure a vital component of any public policy to improve job prospects for the poor. Labor market intermediaries can also help improve access to good employers. The authors find that one such intermediary, temporary help agencies, improved long-term outcomes for low-wage earners by giving them exposure to better-paying firms and therefore the opportunity to obtain better jobs. Taken together, these findings suggest that public policy can best serve the working poor by expanding their access to good employers, assisting them with job training and placement, and helping them to prepare for careers that combine both mobility and job retention strategies. Moving Up or Moving On offers a compelling argument about how low-wage workers can achieve upward mobility, and how public policy can facilitate the process. Clearly written and based on an abundance of new data, this book provides concrete, practical answers to the large questions surrounding the low-wage labor market.
Levertijd:
-
Moving Up or Moving on Engels | Druk: 1 | Paperback | 9780871540560 | 179 pagina's
Taal
Engels
Bindwijze
Paperback
Druk
1
Verschijningsdatum
2006-12-01
Aantal pagina's
179 pagina's
Illustraties
Met illustraties
Auteur
Fredrik Andersson | Harry J. Holzer
Co-auteur
Harry J. Holzer
Uitgever
Russell Sage Foundation
Originele Titel
Moving Up or Moving on: Who Advances in the Low-Wage Labor Market?
NUR code
780
Oorspronkelijke releasedatum
2006-12-01
Subtitel
Who Gets Ahead in the Low-Wage Labor Market?