Wat is dit voor site? Wij zoeken de goedkoopste boeken op internet. The Camden Memory Testsvonden we het goedkoopst op Bol.com voor €0. We hebben gezocht in nieuwe en tweedehands boeken. Rechtsonderaan de pagina kan je het boek direct bestellen via Bol .com.
The Camden Memory Tests
Elizabeth Warrington, Elizabeth K. Warrington - 9780863774294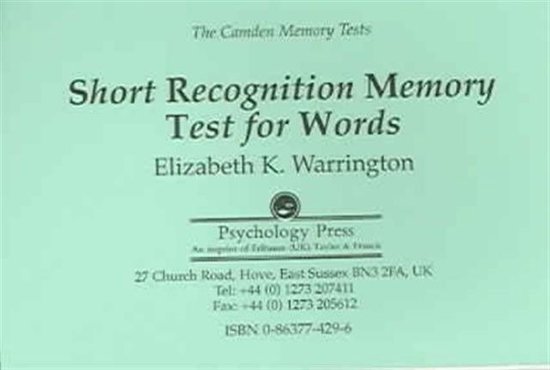 The Camden Memory Tests consist of 5 new measures. Each test was developed to fulfil a clinical need that was not met by existing memory tests and they are intended to be used separately. The Pictorial Recognition Memory Test is an exceptionally easy test that can provide useful clinical information in the assessment of patients unable to cope with the demands of more difficult tests. It can also be used to identify subjects who are 'faking' memory disorders. The Topographical Recognition Memory Test provides a culture-free measure of visual memory that is a useful alternative to the more commonly used Recognition Memory Test for faces. The Paired-Associate Learning Test provides a more satisfactory measure of verbal recall and verbal learning than is at present available. The Short Recognition Memory Test for Words and The Short Recognition Memory Test for Faces were both developed to provide a short and quick version of the standard Recognition Memory Test with only the minimum loss of discriminative power. Each of the 5 individual tests has been standardised in a large representative cross section of an urban population including subjects between the ages of 70 and 85. Validation studies are presented. The localising power of the Topographical Recognition Memory Test and the Paired-Associate Learning Test has been established by assessing patients with unilateral cerebral lesions and the discriminative power of the Short Recognition Memory Test for Words and for Faces has been established by assessing patients with dementing illnesses.
Levertijd:
-
The Camden Memory Tests
Gewicht
91 g
Verpakking breedte
108 mm
Verpakking hoogte
5 mm
Verpakking lengte
140 mm