Engels | Druk: 1 | Paperback | 9780767908184 | 544 pagina's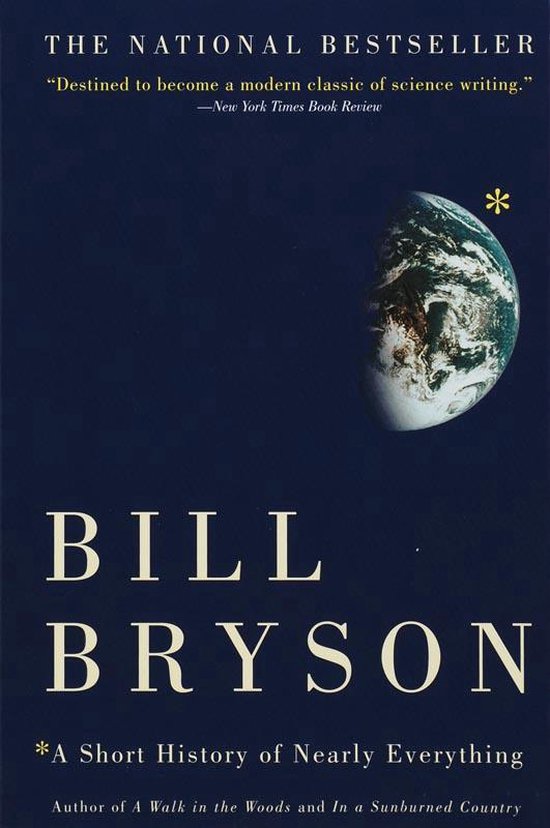 SCIENCE
More than six months on the New York Times bestseller list!
''[Bill Bryson] makes science interesting and funny ... You can bet that many questions you have about the universe and the world will be answered here.'' -Boston Globe
In A Short History of Nearly Everything, the famed and much beloved writer Bill Bryson confronts his greatest challenge: to understand-and, if possible, answer-the oldest, biggest questions we have posed about the universe and ourselves. Taking as his territory everything from the Big Bang to the rise of civilization, Bryson seeks to understand how we got from there being nothing at all to there being us. To that end, he has attached himself to a host of the world's most advanced (and often obsessed) archaeologists, paleontologists, physicists, astronomers, anthropologists, and mathematicians, traveling to their offices, laboratories, and field camps. A Short History of Nearly Everything is the record of this quest, and it is a profound, funny, supremely clear and entertaining adventure in the realms of human knowledge, as only Bill Bryson can render it.
''Here are answers to the stupid questions you were afraid to ask in school ... [Bryson] peppers the book with wit and great details ... Bottom line: Science with a smile.'' -People
''A mix of sharp and sassy prose, humor, outsize characters, and just plain common sense.'' -Men's Journal
''It is one of this book's great achievements that Bryson is able to weave a satisfying universal narrative without sparing the reader one whit of scientific ignorance or doubt... It represents a wonderful education, and all schools would be better places if it were the core science reader on the curriculum.'' -Tim Flannery, Times Literary Supplement
BILL BRYSON's bestselling books include A Walk in the Woods, I'm a Stranger Here Myself. In a Sunburned Country, Bill Bryson's African Diary, and Bryson's Dictionary of Troublesome Words, all available from Broadway Books. He lives in Norfolk, England, with his wife and children.
Levertijd: Uiterlijk 29 januari in huis
Tweedehands: €13.99 (nieuw: €16.99) Besparing: 18 %
(Inclusief €1,99 servicekosten)
A Short History of Nearly Everything Engels | Druk: 1 | Paperback | 9780767908184 | 544 pagina's
Taal
Engels
Bindwijze
Paperback
Druk
1
Verschijningsdatum
september 2004
Afmetingen
23,3 x 15,6 x 3,2 cm
Aantal pagina's
544 pagina's
Illustraties
Nee
Auteur
Bill Bryson
Uitgever
Onbekend
Extra groot lettertype
Nee
Gewicht
581 g
Verpakking breedte
156 mm
Verpakking hoogte
32 mm
Verpakking lengte
233 mm