Wat is dit voor site? Wij zoeken de goedkoopste boeken op internet. Sleepover with Beatrice and Bearvonden we het goedkoopst op Bol.com voor €0. We hebben gezocht in nieuwe en tweedehands boeken. Rechtsonderaan de pagina kan je het boek direct bestellen via Bol .com.
Sleepover with Beatrice and Bear
Engels | Druk: 1 | Hardcover | 9780399256677 | 32 pagina's
Monica Carnesi, Monica Carnesi - 9780399256677
Engels | Druk: 1 | Hardcover | 9780399256677 | 32 pagina's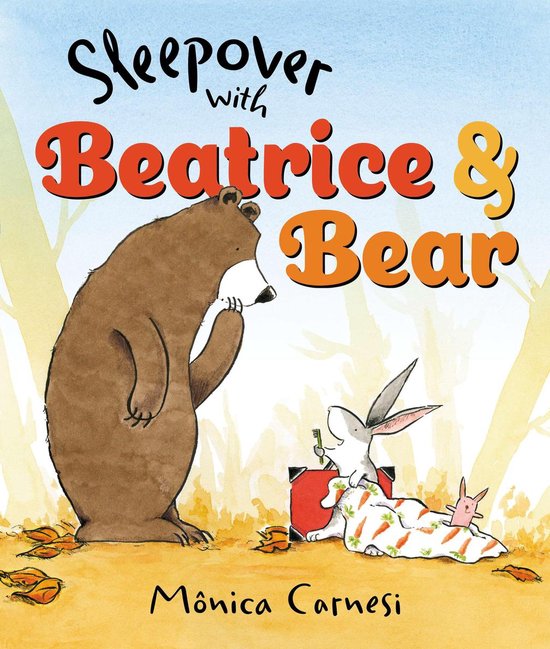 This delightful story of an irrepressible bunny will engage readers on many levels as it celebrates creativity, making the best of circumstances, and the joy of the changing seasons.

How can two friends share winter when one of them is hibernating? Beatrice and Bear meet one spring day and become best buddies. They play together through summer and fall. Then winter comes and Beatrice can&;t find Bear anywhere. She hears he&;s gone to hibernate&;but where on earth is that? When Beatrice learns that hibernation is not a place and that Bear will be sleeping all winter long, she fears it will be a lonely season . . . unless she comes up with a brilliant plan to share winter with Bear too.
Levertijd:
-
Sleepover with Beatrice and Bear Engels | Druk: 1 | Hardcover | 9780399256677 | 32 pagina's
Taal
Engels
Bindwijze
Hardcover
Druk
1
Verschijningsdatum
augustus 2014
Afmetingen
Afmeting: 24,4 x 20,8 x 1 cm
Aantal pagina's
32 pagina's
Aanbevolen leeftijd
3 - 5 jaar
Illustraties
Met illustraties
Auteur(s)
Monica Carnesi | Monica Carnesi
Illustrator
Monica Carnesi
Co-illustrator
M�Nica Carnesi
Uitgever
Penguin Putnam Inc
Extra groot lettertype
Nee
Gewicht
1 g
Studieboek
Nee
Verpakking breedte
1 mm
Verpakking hoogte
1 mm
Verpakking lengte
1 mm