Engels | Druk: 1 | Losbladig | 9780241957707 | 432 pagina's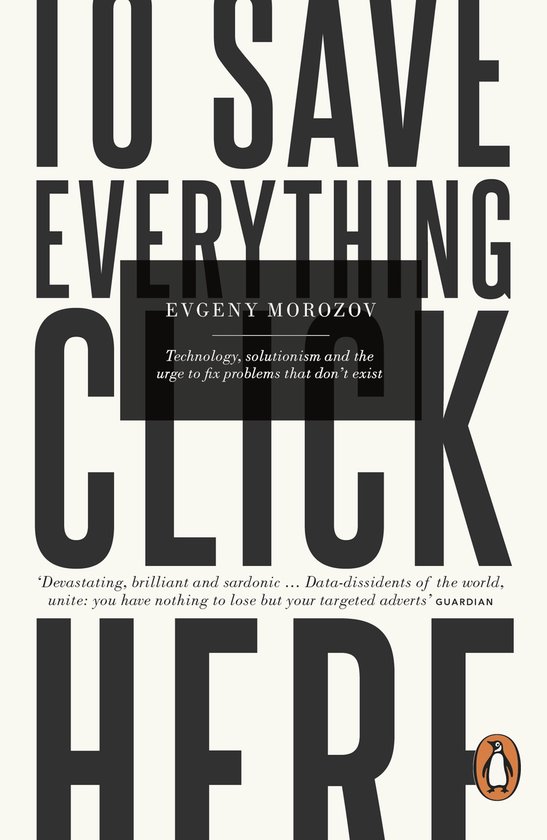 To Save Everything, Click Here 1e editie is een boek van Evgeny Morozov uitgegeven bij Penguin Books Ltd. ISBN 9780241957707

"To Save Everything, Click Here, the new book by the acclaimed author of The Net Delusion, Evgeny Morozov, is a penetrating look at the shape of society in the digital age, of the direction in which the 21st Century may take us, and of the alternate paths we can still choose

Our society is at a crossroads. Smart technology is transforming our world, making many aspects of our lives more convenient, efficient and - in some cases - fun. Better and cheaper sensors can now be embedded in almost everything, and technologies can log the products we buy and the way we use them. But, argues Evgeny Morozov, technology is having a more profound effect on us: it is changing the way we understand human society.

In the very near future, technological systems will allow us to make large-scale and sophisticated interventions into many more areas of public life. These are the discourses by which we have always defined our civilisation: politics, culture, public debate, morality, humanism. But how will these discourses be affected when we delegate much of the responsibility for them to technology? The temptation of the digital age is to fix everything - from crime to corruption to pollution to obesity - by digitally quantifying, tracking, or gamifiying behaviour. Yet when we change the motivations for our moral, ethical and civic behaviour, do we also change the very nature of that behaviour? Technology, Morozov proposes, can be a force for improvement - but only if we abandon the idea that it is necessarily revolutionary and instead genuinely interrogate why and how we are using it.

From urging us to drop outdated ideas of the internet to showing how to design more humane and democratic technological solutions, To Save Everything, Click Here is about why we should always question the way we use technology.

'A devastating exposé of cyber-utopianism by the world's most far-seeing Internet guru' John Gray, author of Straw Dogs

'Evgeny Morozov is the most challenging - and best-informed - critic of the Techno-Utopianism surrounding the Internet. If you've ever had the niggling feeling, as you spoon down your google, that there's no such thing as a free lunch, Morozov's book will tell you how you might end up paying for it' Brian Eno

'This hard-hitting book argues people have become enslaved to the machines they use to communicate. It is incisive and beautifully written; whether you agree with Morozov or not, he will make you think hard' Richard Sennett, author of Together

Praise for The Net Delusion:

'Gleefully iconoclastic . . . not just unfailingly readable: it is also a provocative, enlightening and welcome riposte to the cyberutopian worldview' Economist

'A passionate and heavily researched account of the case against the cyberutopians . . . only by becoming ""cyberrealists"" can we hope to make humane and effective policy' Bryan Appleyard, New Statesman

'Piercing . . . convincing . . . timely' Financial Times

Evgeny Morozov is the author of The Net Delusion: The Dark Side of Internet Freedom (which was the winner of the 2012 Goldsmith Book Prize) and a contributing editor for The New Republic. Previously, he was a visiting scholar at Stanford University, a Scwhartz fellow at the New America Foundation, a Yahoo fellow at the Institute for the Study of Diplomacy at Georgetown, and a fellow at the Open Society Foundations. His monthly column on technology comes out in Slate, Corriere della Sera, El Pais, Frankfurter Allgemeine Zeitung and several other newspapers. He's also written for the New York Times, The Economist, the Wall Street Journal, the Financial Times and the London Review of Books."
Levertijd: Op voorraad. Voor 23:59 besteld, morgen in huis
€11.99 (nieuw: €17.49) Besparing: 31 %
(Inclusief €1,99 servicekosten)