Engels | Boxset paperback | 9780147508737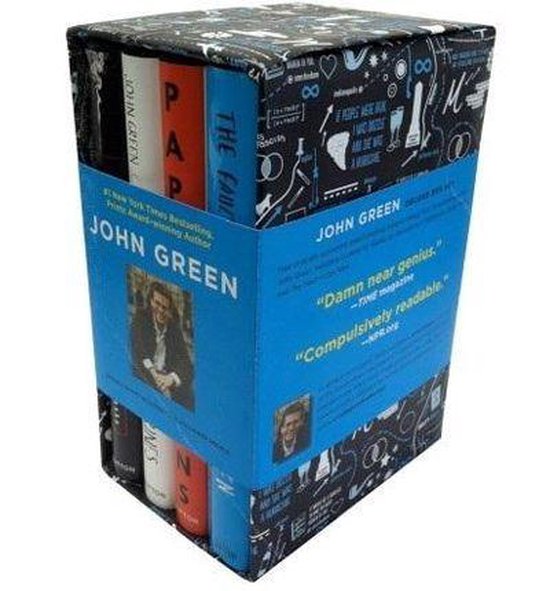 The John Green boxset includes four novels from the critically acclaimed, best-selling master of modern storytelling, brought together for the first time. Includes The Fault in Our Stars, Looking for Alaska, Paper Towns, and An Abundance of Katherines.

The Fault in Our Stars:
Despite the tumor-shrinking medical miracle that has bought her a few years, Hazel has never been anything but terminal, her final chapter inscribed upon diagnosis. But when a gorgeous plot twist named Augustus Waters suddenly appears at Cancer Kid Support Group, Hazel's story is about to be completely rewritten.

Insightful, bold, irreverent, and raw, The Fault in Our Stars is award-winning author John Green's most ambitious and heartbreaking work yet, brilliantly exploring the funny, thrilling, and tragic business of being alive and in love.

Looking for Alaska:
The unmissable first novel from bestselling and award-winning author of The Fault In Our Stars.

"If people were rain, I was drizzle and she was a hurricane."

Miles Halter's whole life has been one big non-event, until he meets Alaska Young.

Gorgeous, clever and undoubtedly screwed-up, Alaska draws Miles into her reckless world and irrevocably steals his heart. For Miles, nothing can ever be the same again.

'Looking for Alaska' brilliantly captures the exquisite painful joy of living and loving. Poignant, funny, heartbreaking and compelling, this novel will stay with you forever.

Paper Towns:
Who is the real Margo? Quentin Jacobsen has spent a lifetime loving the magnificently adventurous Margo Roth Spiegelman from afar. So when she cracks open a window and climbs into his life - dressed like a ninja and summoning him for an ingenious campaign of revenge - he follows. After their all-nighter ends and a new day breaks, Q arrives at school to discover that Margo, always an enigma, has now become a mystery. She has disappeared. Q soon learns that there are clues in her disappearance.. and they are for him. Trailing Margo's disconnected path across the USA, the closer Q gets, the less sure he is of who he is looking for.

An Abundance of Katherines:
When it comes to relationships, Colin Singleton's type is girls named Katherine. And when it comes to girls named Katherine, Colin is always getting dumped. Nineteen times, to be exact. On a road trip miles from home, this anagram-happy, washed-up child prodigy has ten thousand dollars in his pocket, a bloodthirsty feral hog on his trail, and an overweight Judge Judy - loving best friend riding shotgun - but no Katherines. Colin is on a mission to prove The Theorem of Underlying Katherine Predictability, which he hopes will predict the future of any relationship, avenge Dumpees everywhere, and finally win him the girl.

Love, friendship, and a dead Austro-Hungarian archduke add up to surprising and heart-changing conclusions in this ingeniously layered comic novel about reinventing oneself.
Levertijd: 1 - 2 weken
Tweedehands: €39.49
(Inclusief €1,99 servicekosten)