Linda M. Espinosa, Linda M. Espinosa - 9780133017854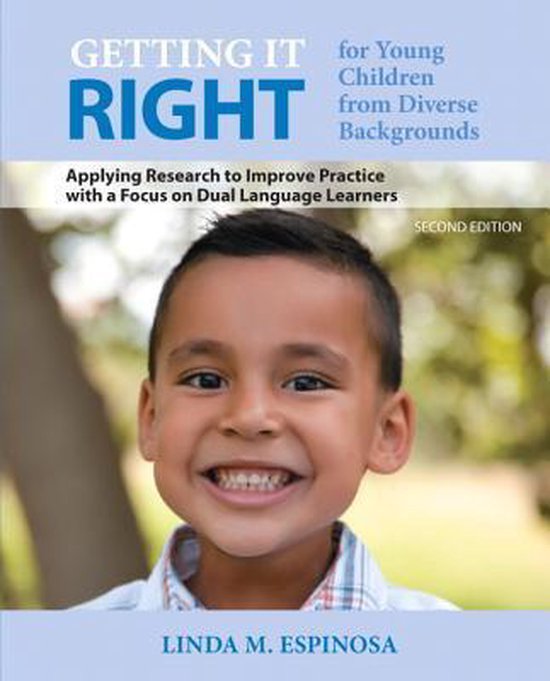 Note: This is the bound book only and does not include access to the Enhanced Pearson eText. To order the Enhanced Pearson eText packaged with a bound book, use ISBN 0133831477.
What young children from diverse backgrounds and those faced with the challenges of poverty need to succeed in school today is the focus of this authoritative book. Grounded in research yet masterfully linked to practice, it gives early childhood practitioners the tools, resources, and guidance they need to ensure quality education for young children from all backgrounds and all walks of life.
Substantially reorganized and streamlined to focus on the most relevant issues, the new Second Edition of Linda Espinosa's Getting It RIGHT for Young Children from Diverse Backgrounds looks at the advances in the scientific understanding of dual language development since the First Edition was published; presents the new research on program models and classroom practices that improve the educational outcomes for children from diverse backgrounds; includes a new chapter dedicated to instructional strategies and classroom practices with video links, illustrations, sample lessons, and practical examples; and adds clear learning objectives, summary paragraphs, reflection questions, and extensive activities to each chapter to help students internalize the content and apply it to their own work. The Enhanced Pearson eText features embedded video and internet resources.
Improve mastery and retention with the Enhanced Pearson eText*
The Enhanced Pearson eText provides a rich, interactive learning environment designed to improve student mastery of content. The Enhanced Pearson eText is:
Engaging. The new interactive, multimedia learning features were developed by the authors and other subject-matter experts to deepen and enrich the learning experience.
Convenient. Enjoy instant online access from your computer or download the Pearson eText App to read on or offline on your iPad® and Android® tablet.*
Affordable. The Enhanced Pearson eText may be purchased stand-alone or with a loose-leaf version of the text for 40-65% less than a print bound book.
*The Enhanced eText features are only available in the Pearson eText format. They are not available in third-party eTexts or downloads.
*The Pearson eText App is available on Google Play and in the App Store. It requires Android OS 3.1-4, a 7" or 10" tablet, or iPad iOS 5.0 or later.
Levertijd:
-
Getting It Right for Young Children from Diverse Backgrounds