Engels | Hardcover | 9780123739049 | 24 december 2008 | 1000 pagina's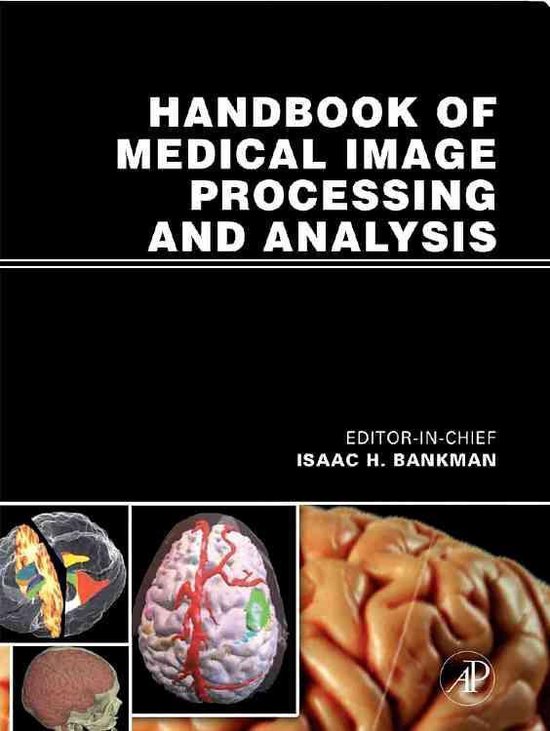 The Handbook of Medical Image Processing and Analysis is a comprehensive compilation of concepts and techniques used for processing and analyzing medical images after they have been generated or digitized. The Handbook is organized into six sections that relate to the main functions: enhancement, segmentation, quantification, registration, visualization, and compression, storage and communication.

The second edition is extensively revised and updated throughout, reflecting new technology and research, and includes new chapters on: higher order statistics for tissue segmentation; tumor growth modeling in oncological image analysis; analysis of cell nuclear features in fluorescence microscopy images; imaging and communication in medical and public health informatics; and dynamic mammogram retrieval from web-based image libraries.

For those looking to explore advanced concepts and access essential information, this second edition of Handbook of Medical Image Processing and Analysis is an invaluable resource. It remains the most complete single volume reference for biomedical engineers, researchers, professionals and those working in medical imaging and medical image processing.

Dr. Isaac N. Bankman is the supervisor of a group that specializes on imaging, laser and sensor systems, modeling, algorithms and testing at the Johns Hopkins University Applied Physics Laboratory. He received his BSc degree in Electrical Engineering from Bogazici University, Turkey, in 1977, the MSc degree in Electronics from University of Wales, Britain, in 1979, and a PhD in Biomedical Engineering from the Israel Institute of Technology, Israel, in 1985. He is a member of SPIE.
Includes contributions from internationally renowned authors from leading institutions
NEW! 35 of 56 chapters have been revised and updated. Additionally, five new chapters have been added on important topics incluling Nonlinear 3D Boundary Detection, Adaptive Algorithms for Cancer Cytological Diagnosis, Dynamic Mammogram Retrieval from Web-Based Image Libraries, Imaging and Communication in Health Informatics and Tumor Growth Modeling in Oncological Image Analysis.
Provides a complete collection of algorithms in computer processing of medical images
Contains over 60 pages of stunning, four-color images
Levertijd: Verwacht over 8 weken
€184.99

Handbook Of Medical Imaging 2E Engels | Hardcover | 9780123739049 | 24 december 2008 | 1000 pagina's
Taal
en
Bindwijze
Hardcover
Oorspronkelijke releasedatum
24 december 2008
Aantal pagina's
1000
Illustraties
Nee
Hoofdauteur
Isaac Bankman
Hoofdredacteur
Isaac Bankman
Tweede Redacteur
Isaac N. Bankman
Hoofduitgeverij
Elsevier Science & Technology
Editie
2
Extra groot lettertype
Nee
Gewicht
2427 g
Product breedte
216 mm
Product hoogte
46 mm
Product lengte
276 mm
Studieboek
Ja
Verpakking breedte
216 mm
Verpakking hoogte
276 mm
Verpakking lengte
46 mm