Engels | Druk: 6th Revised edition | Hardcover | 9780071813655 | 288 pagina's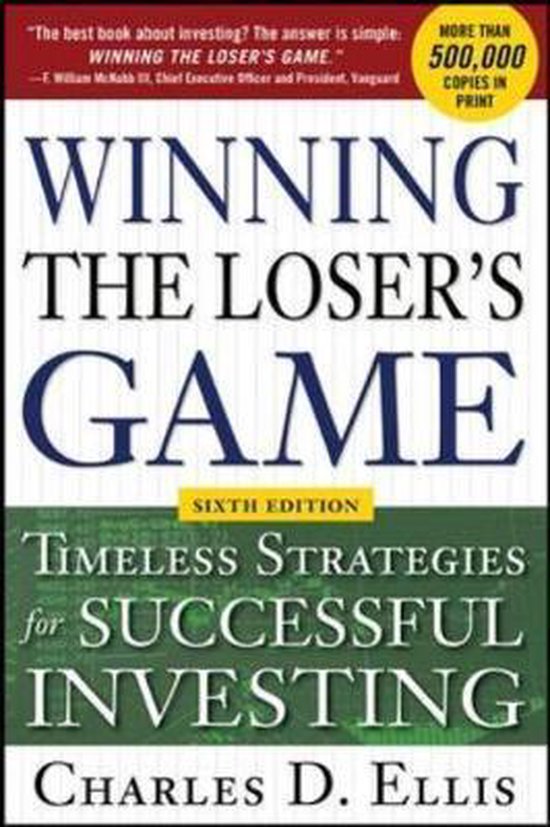 The classic guide to winning on Wall Street--completely updated and expanded!
The go-to guide for anyone seeking long-term gain in the stock market,
Winning the Loser's Game
was referred to by the great Peter Drucker as "by far the best book on investment policy and management."
Dr. Charles Ellis, dubbed "Wall Street's Wisest Man" by
Money
magazine, has been showing investors for three decades how stock markets really work and what individuals can do to be sure they are long-term winners. Now, in this new edition of his investing classic, Ellis helps you succeed in a market that's becoming moreunpredictable by the day.
Applying wisdom gained from half a century of advising many of the leading investment managers and securities firms around the world, Ellis explains how individualinvestors can avoid common traps and get on the road to investment success. With fully updated facts, charts, and figures, this new edition of
Winning the Loser's Game
is packed with all new material, including:
U.S. government bonds: Why they're no longer a safe bet for long-term investors
Active management: Fees are higher than ever. Are they worth it?
The investment management industry: They make huge profits--but how well do they serve you?
Behavioral economics: Know yourself--and you'll be a better investor
With
Winning the Loser's Game
, you have everything you need to set realistic objectives and a powerful investing strategy that will take you well into retirement.
Experts praise
Winning the Loser's Game
:
"Charley Ellis has been one of the most influential investment writers for decades. This classic should be required reading for both individual and institutional investors."
-- BURTON MALKIEL, Author,
A Random Walk Down Wall Street
"The best book about investing? The answer is simple: Winning the Loser's Game. Using compelling data and pithy stories, Charley Ellis has captured beautifully in this new and expanded edition of his classic work the most important lessons regardinginvesting. In today's unforgiving environment, it's a must-read!"
-- F. WILLIAM McNABB III, Chairman and Chief Executive Officer, Vanguard
"No one understands what it takes to be a successful investor better than Charley Ellis and no one explains it more clearly or eloquently. This updated investmentclassic belongs on every investor's bookshelf."
-- CONSUELO MACK, Executive Producer and Managing Editor,Consuelo Mack WealthTrack
"A must-reread classic. . . ."
-- MARTIN LEIBOWITZ, Managing Director, Morgan Stanley Research
"Winning the Loser's Game has long been required reading for professional investors. . . . This elegant volume explores approaches for individuals, such as relying on intellect rather than emotion and building a personal portfolio by taking advantage of what other investors already know."
-- ABBY JOSEPH COHEN, Goldman Sachs & Co
"This is less a book about competition than about sound money management. Sounder than Charley Ellis they do not come."
-- ANDREW TOBIAS, Author,
The Only Investment Guide You'll Ever Need
"Winning the Loser's Game is one of those timeless investing classics that is even more valuable today than when it was first published. Reading it again, in the context of two 50 percent-plus stock market crashes since 1999, will demonstrates the wisdom of Ellis' advice."
-- CBS MONEYWATCH.COM
Levertijd: 1 - 8 dagen
Tweedehands: €19.49
(Inclusief €1,99 servicekosten)